16-yr-old 'sold' and married to 65-yr-old Arab for Rs 5L, claims domestic abuse
The girl was allegedly 'sold' by her father and aunt to an Oman national who paid Rs 5 lakh for the bride.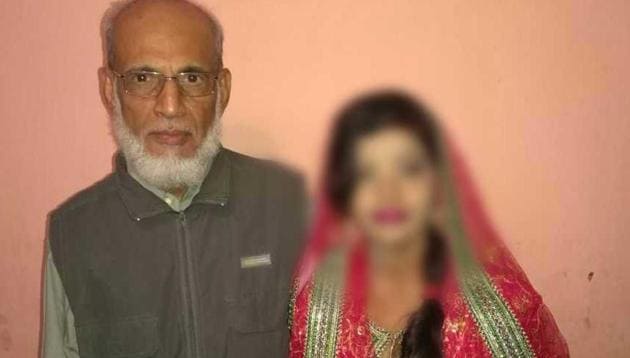 Updated on Aug 18, 2017 01:18 AM IST
Hyderabad Police are investigating a complaint by a woman that her 16-year-old daughter was forcibly married to a 65-year-old Arab national by her sister-in-law in the last week of June, officials said on Thursday.
Sayeeda Unnisaa, a resident of Nawab Saheb Kunta area of the old city, lodged a complaint with Falaknuma police on Wednesday that she recently received a call from her daughter saying she was being physically tortured by her Arab husband, Sheik Ahmed, in Oman's capital Muscat, and she was desperate to return to India.
"When she pleaded with him to send her back to Hyderabad, he reportedly said he had bought her by paying Rs 5 lakh to Sikandar and that she would be allowed to return only after the amount is returned to him," she told the police.
Sayeeda said in her complaint her sister-in-law Ghousia got her daughter married to the Oman national a few days before Ramzan festival in collusion with her husband Sikandar.
Sayeeda claimed she was not interested in getting her daughter married to the man but Sikandar and Ghousia convinced her that her daughter would lead a luxurious life in Muscat and showed her some videos about the lifestyle of the prospective groom.
Sikandar performed the wedding of the girl at a hotel near Barkas with the help of a cleric, she said.
Read | Maneka seeks Sushma's help to rescue minor girl married to Arab national
Ahmed left for Muscat after spending four days with the girl at the hotel after which she was brought to the residence of Sikandar at Teegalkunta area of the city. He arranged for a passport and other documents for the girl to fly to Muscat a couple of weeks later.
"We are going through the complaint. We have to examine all the documents, including the marriage certificate and passport, before registering a case," Falaknuma assistant commissioner of police Mohd Tajuddin Ahmed told the Hindustan Times.
He, however, said as per Sharia it was not a crime for a 65-old-man to marry a 16-year-old girl.
"So, we cannot treat this as a child marriage. We are investigating the allegations of forced marriage," Tajuddin said.
Contractual marriages of minor girls from poor families to Arab sheikhs by qazis or distant relatives is not new. These sheikhs come to the city to find 'suitable' brides and pay anything from Rs 10,000 to lakhs of rupees.
According to an ActionAid India report released in June, India contributes 33% of the total number of child brides in the world with nearly 103 million Indians married before they were 18.
The report, which analysed data from Census 2011, also said of every 28 girl child marriages occurring every minute in the world, more than two takes place in India.
Close Story