Novak Djokovic vs Rafael Nadal Highlights: Novak Djokovic dismantles Rafael Nadal 6-3, 6-2, 6-3 to win Australian Open
Updated on Jan 27, 2019 04:37 PM IST
As it happened: He has dominated Nadal and then some more, never allowing him to breathe, to play, to do anything. Hostile tennis from Novak, he has blown Rafa. He owned the show,did Novak and that elation in the middle of the court sums up the effort. Number 7 for Novak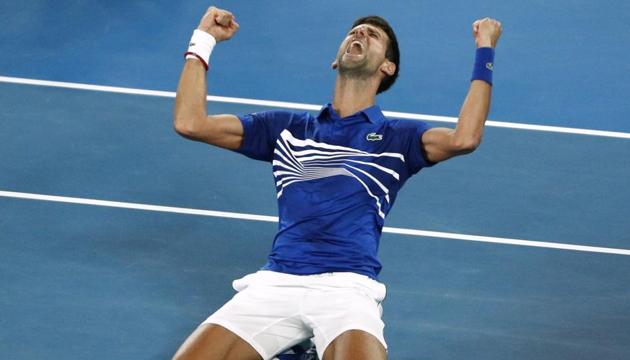 16:22 hrs IST
Historic 7th in the bag
He has dominated Nadal and then some more, never allowing him to breathe, to play, to do anything. Hostile tennis from Novak, he has blown Rafa. He owned the show,did Novak and that elation in the middle of the court sums up the effort. Number 7 for Novak
History Maker.

The moment you win your seventh #AusOpen title.@DjokerNole #AusOpenFinal pic.twitter.com/7HC5Gwyfuh

— #AusOpen (@AustralianOpen) January 27, 2019
16:16 hrs IST
Nadal serves to stay in the match
Well, it all boils down to this position. It has been a powerful, stunning display from Djokovic. He leads 5-3 and Nadal is serving to stay in this match
16:00 hrs IST
Stat attack - Dominant Djokovic
Stats tell a huge story 📖

Follow every point and catch all the insights from the men's final with #Infosys MatchBeats: https://t.co/w3AYZn2LN7#AusOpen #AusOpenFinal pic.twitter.com/wcZI16qBWE

— #AusOpen (@AustralianOpen) January 27, 2019
15:52 hrs IST
This is fire
Novak has broken Nadal again and he is leading 2-1 in the 3rd set. Nadal is looking resigned to his fate. Novak is pumping it all over the place
Is this the end?@DjokerNole breaks the Rafael Nadal serve again to lead 2-1 in the third set. #AusOpen #AusOpenFinal pic.twitter.com/dX52doYIZ2

— #AusOpen (@AustralianOpen) January 27, 2019
15:43 hrs IST
Can Nadal do a Nadal?
In a game of exhilarating rallies, Nadal manages to hold for 1-0 in the third.#AusOpen pic.twitter.com/kO5OK8gphI

— #AusOpen (@AustralianOpen) January 27, 2019
15:33 hrs IST
He bags the second game
Sublime, powerful, magical. Novak's game has been on song and he is not relenting. Rafa's timing is off, but it is being made to look more mediocre by Novak's brilliance. Ace after ace, 40-0 and another ace. He has secured the second game with some statement
One set away from a seventh #AusOpen title...@DjokerNole serves three aces in a row to close out the second set against Rafael Nadal, taking it 6-2.#AusOpenFinal pic.twitter.com/yYwMyj1QAQ

— #AusOpen (@AustralianOpen) January 27, 2019
15:30 hrs IST
Novak on fire
Precision like a surgeon, the forehands are immaculate, the retrieving is on the money, Novak is flying as of now
Sending a message 👊@DjokerNole breaks Rafael Nadal for the second time in the second set, having made just four unforced errors in the match so far.

The world No.1 leads 5-2 and will serve for a two sets to love lead.#AusOpen pic.twitter.com/Bj6fNsfpLP

— #AusOpen (@AustralianOpen) January 27, 2019
15:25 hrs IST
Djokovic is on song
Nadal's timing is certainly off and Novak is on song which is reflecting in the scoreline. He leads 4-2 and Nadal has to hold this serve to stay in the game.
15:18 hrs IST
Struggling to exert pressure
Rafa takes one point and then Novak hits back, there is no string of points which might put Djokovic under pressure and this is helping the Serb break away
15:16 hrs IST
Novak in control
.@DjokerNole breaks Nadal for 3-2 in the second!

Total Djokovic unforced errors: 4
Total Nadal unforced errors: 18#AusOpen pic.twitter.com/ilVFYHwDxw

— #AusOpen (@AustralianOpen) January 27, 2019
15:09 hrs IST
Much better from Nadal
Two quality holds for @RafaelNadal.

The Spaniard leads 2-1 in the second.#AusOpen pic.twitter.com/4jSAGBRmJs

— #AusOpen (@AustralianOpen) January 27, 2019
15:00 hrs IST
Nadal holds serve
Rafa was much better, good serves and great retrieves and now he holds the serve, great start to the second game
14:56 hrs IST
Intense pressure on Rafa
1/21 in receiving points won for @RafaelNadal in the first set...#AusOpen pic.twitter.com/WRQXI4yoHY

— #AusOpen (@AustralianOpen) January 27, 2019
14:54 hrs IST
Insane defence by Novak
He has broken down Rafa here in the first set, not allowing anything to pass by. He was on song and now takes the first set with minimum fuss
14:50 hrs IST
Nadal on the move
A steady game for @RafaelNadal.

He holds to love but still trails 3-5 in the first.#AusOpen pic.twitter.com/eqqO1KvU86

— #AusOpen (@AustralianOpen) January 27, 2019
14:46 hrs IST
Fire, Djoker
Finals jitters for Rafa? #AusOpen pic.twitter.com/xs2LMyttQy

— #AusOpen (@AustralianOpen) January 27, 2019
14:41 hrs IST
Nadal settling down?
He wins his second game, and now Nadal is looking far more relaxed. This game might still be gone, but it bodes well for the remainder of the match. 4-2 to Novak
14:33 hrs IST
Nadal on the board
It was under seize, but Nadal holds his serve and is on the board. Djokovic is retrieving the Nadal rockets just about perfectly, but the game now kicks in!
14:24 hrs IST
Nadal broken
Powerful from Novak, he is putting some early pressure on Nadal and has pulled ahead early. On the money, the crowd is lapping it up. This is the first time Rafa's serve has been broken in the tournament.
14:18 hrs IST
Djokovic holds his 1st serve
Good confident start by Novak, pacy and pointed. Nadal's chips slightly wayward. Early nerves, most definitely. Power from the Serb!
14:06 hrs IST
Out walk the players
The champs are out, game faces on, the crowd in anticipation, a roar, then silence. It's all building up, folks, it's all building up. History on the line!
13:55 hrs IST
Advantage Nadal?
In all Grand Slam meetings, Nadal has a clear advantage with a 9-5 win-loss record. But Djokovic has been in rip-roaring form in the recent past and he will push Nadal hard
13:54 hrs IST
Djokovic speaks
"These are the kind of matches that you live for: finals of Slams, playing the greatest rivals at their best," said Djokovic after his win against Lucas Pouille 6-0, 6-2, 6-2 in Friday's semi-final. "What more can you ask for? This is where you want to be."
13:28 hrs IST
Hello and welcome
Right, we are all set to witness a glorious rivalry write another chapter. Novak takes on Rafael and the stage is already boiling hot. So much is at stake for two champions who just refuse to go away. They will battle it out, not an inch given, not an inch conceded.
We are ready!
Personalise your news feed. Follow trending topics