Team Europe jumps ahead in inaugural Laver Cup tennis
Updated on Sep 23, 2017 08:50 AM IST
The Europeans, the clear favourites with five of the world's top seven players, jumped ahead 3-1 on the opening day of the three-day Laver Cup tennis competition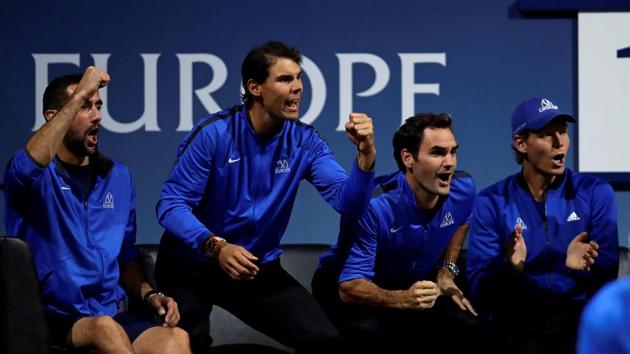 Reuters, Prague |
Reuters
Team Europe swept the singles matches at the inaugural Laver Cup on Friday before Australian Nick Kyrgios and American Jack Sock took down top-ranked Rafael Nadal and Tomas Berdych in the doubles to salvage a point for Team World.
The Europeans, the clear favourites with five of the world's top seven players, jumped ahead 3-1 on the opening day of the three-day competition that is aimed at injecting a new jolt of excitement into tennis but joins a crowded calendar.
Playing on a sleek black hardcourt at Prague's O2 Arena, Croatia's Marin Cilic, Austria's Dominic Thiem and Germany's Alexander Zverev got the European team off to an excellent start, winning all three of their matches.
That set Nadal and hometown Czech Berdych up for a clean sweep with the crowd behind them, but the pair started slowly and were eventually beaten 6-3 6-7(7) 1-0 (10-7) with the encounter decided in a 10-point match tie break.
READ | David Goffin powers through, Lucas Pouille bundled out in Metz tennis
"The first set they were better than us, but later it was close. We started to return more and be more aggressive," Nadal said.
"I am just happy the way the day went... Happy to go to bed 3-1."
Cilic beat American Frances Tiafoe 7-6 7-6 in the first match and Thiem swatted aside a challenge from another American John Isner 6-7(15) 7-6(2) 1-0(10-7).
Zverev then fought off Denis Shapovalov 7-6(3) 7-6(5), but all eyes on the first day were on Nadal.
The Spaniard headlines the event with his long-time rival and world number two Roger Federer, who helped conceive the competition with his sports management company Team8.
That raises the chance of the two greats playing together over the weekend with lineups announced each day.
Competition
Team Europe are overwhelming favourites against Team World, which has no player inside the top 15 and no grand slam titles, compared to a combined 36 for the European side.
The teams are captained by Bjorn Borg and John McEnroe, whose own rivalry starting in the 1970s featured a contrast in temperament and style that made their matches the kind of must-watch events that Laver Cup organisers hope to showcase.
As in their storied on-court battles in their playing days, McEnroe painted an animated figure courtside as he frequently sprung from his chair to rally his players while Borg remained mostly seated.
READ | Leander Paes, Purav Raja reach St. Petersburg Open tennis semi-finals
His calm demeanour, however, belied his nerves.
"I was more nervous today than when I was playing because, I mean, of course when you play you have control," Borg said.
The tournament, which will rotate between Europe and the rest of the world each year, features three singles and one doubles match each day. A win was worth one point on Friday and will count for two on Saturday and three on Sunday.
An extra doubles match will be played if the teams are tied on points after all matches are over.