Anand Sharma and former Rajya Sabha leader of opposition Ghulam Nabi Azad – another G-23 leader – were included in the Political Affairs Group which the party had announced setting up during its Chintan Shivir (brainstorming session) earlier this month.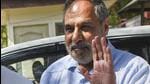 Data released by the ministry showed
₹
24.46 crores was released in 2020-21 and
₹
368.04 crores was released in 2021-22 (so far) to vendors for setting up the oxygen plants.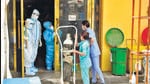 Congress leader Kapil Sibal, while talking about the turmoil the party is facing in Punjab, on Wednesday demanded "open dialogue and introspection" and questioned the lack of clarity in the decision-making process. Hours later, a group of Congress workers protested outside his house in Delhi.

"(The panel)...visited BSF headquarters and the Makwal border post as a part of a study visit on administration, development and people's welfare," said a BSF spokesperson.

"The Congress party will show how it can unitedly fight in this elections. That will be the endeavour of the Congress," Anand Sharma said.