The Delhi University Teachers' Association on Friday staged a demonstration outside the vice chancellor's office demanding absorption of ad-hoc teachers.

Published on Jun 24, 2022 08:16 PM IST
The teacher's body constituted a panel to review the proposed framework and is expected to submit its feedback by Tuesday.

Published on Jan 30, 2022 02:42 AM IST
By
Sadia Akhtar
, New Delhi
NDTF president AK Bhagi defeated the Left-aligned DTF candidate, Abha Dev Habib, by over 1,000 votes for the president's post on Saturday

Updated on Nov 28, 2021 01:25 AM IST
Interviews for ad hoc teachers have not taken place at the university for around a decade. Even if some interviews have been conducted, only 500-600 positions have been filled whereas around 5,000 positions are lying vacant, said ad hoc teachers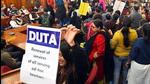 Updated on Nov 23, 2021 02:43 AM IST
The Delhi University Teachers' Association (DUTA) wrote to the varsity's acting vice-chancellor PC Joshi demanding suspension of classes and cancellation of exams since many students and teachers have been affected by the coronavirus pandemic.

Published on May 01, 2021 08:08 AM IST