Latest from fire tender at spot
Twenty fire tenders were rushed to the area near the Mundka Metro station after the fire was reported in the factory at 5am. The Delhi Fire Service declared it as a medium fire.

Updated on Dec 14, 2019 09:59 AM IST
Forty-three died, mostly young migrant labourers, and 16 others were injured in the devastating fire that ripped through the illegal factory in Anaj Mandi early on Saturday.

Updated on Dec 10, 2019 11:34 AM IST
Fire breaks out on the second floor of NDMC building at Connaught Place.

Updated on Jun 01, 2019 07:55 PM IST
Fire breaks out at Park Circus in Kolkata; 12 fire tenders at the spot.

Updated on May 29, 2019 04:47 PM IST
The fire, which was reported to be of level two or not a major incident, was first noticed at around 10:50 am at the Super Shopping market complex on 255 Abdul Rahman Street, behind the Jumma Masjid.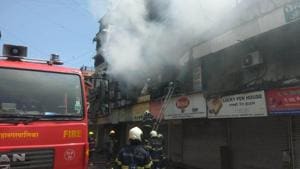 Updated on Apr 22, 2019 12:35 PM IST