The SDPI is a political party founded in 2009. It is the political offshoot of the Islamist outfit PFI.

The Punjab and Haryana high court has held that look out notice (LOC) against a person being probed by an investigating agency, issued by the Union ministry of home affairs (MHA), needs to be communicated to the affected person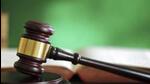 Bengaluru police have brought the second accused, Jamal Mohammed Usmani, who threatened to kill judges after Hijab verdict from Tamil Nadu.

The Karnataka HC directed Education Department officials to issue hall tickets to class 10 students of eight unaccredited schools for them to be able to write the 2022 SSLC board examinations.

Justice Manoj Kumar Ohri said if the Centre has no problem in allowing prayers on the first floor, then it should not have any objections to the other floors remaining open as well