The move came a day after the home ministry banned The Resistance Front, an offshoot of Lashkar-e-Taiba, for carrying out terror activities in Kashmir.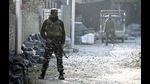 Updated on Jan 07, 2023 04:54 AM IST
By
Neeraj Chauhan
, New Delhi
KENT's water purifiers offer pure water by removing harmful dissolved impurities with UV+RO+UF+TDS Control. Here is the list of the best Kent water purifier

Published on Dec 25, 2022 01:44 AM IST
The 'Agnipath' scheme was announced by defence minister Rajnath Singh on June 14 along with the three service chiefs of the IAF, Army and Navy.

Published on Jun 26, 2022 11:06 PM IST
Written by Kanishka Singharia | Edited by Sohini Goswami
Sanjay Raut further said that the group may move to court on the grounds that the percentage of Marathi-speaking people in Mumbai is declining and hence the city should be made a Union territory.

Published on Apr 08, 2022 03:39 PM IST
Written by Kanishka Singharia | Edited by Chandrashekar Srinivasan
, Mumbai
In a letter to the ministry of home affairs (MHA), Somaiya said that there should be a review of the security system so that the Pune type incident, which allegedly took place on February 5, could be avoided in future.

Published on Feb 10, 2022 01:21 PM IST