[
internet broadband facility
]
Latest from internet broadband facility
In Bhanderwah, police officers asked citizens to stay indoors through the public address system, while informing students appearing in board examinations that they will be allowed to move freely to reach their examination centres on showing valid identity and admit cards to deployed forces.

Published on Jun 13, 2022 05:20 PM IST
Written by Kanishka Singharia | Edited by Sohini Goswami
The project was approved in June last year to roll out an optical fibre network under BharatNet in 16 states in a public-private partnership model with a total expense of
₹
29,430 crore.

Published on Feb 27, 2022 07:44 PM IST
Kashmir has more than 20,000 broadband connections and only a few hundred mostly belonging to officials were restored after the subscribers submitted written bonds to the government. The broadband was restored on Thursday afternoon.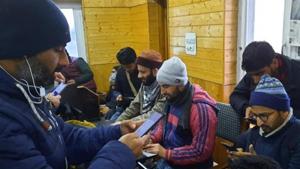 Updated on Mar 05, 2020 06:42 PM IST