Major mosques in the city, including the Jama Masjid and Fatehpuri Masjid in the Walled City, witnessed large-scale participation in the early morning Eid namaz.
Police in several states such as Uttar Pradesh and Maharashtra have made adequate security arrangements for prayer sessions.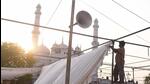 Deputy commissioner of police (north) Sagar Singh Kalsi said the incident took place around 6.45pm on Monday, when Goel's Ertiga car was coming from Daryaganj towards Red Fort, through Subhash Marg.

In the first phase, an area of about 1.75 acres was developed at an estimated cost of

₹

7.65 crore while the second phase took up the 2.25 acres at an estimated cost of

₹

10.03 crore.

The consultant will also prepare the plan for the second phase of Chandni chowk redevelopment and creation of a heritage corridor between Delhi Gate and Kashmere Gate, the senior government official said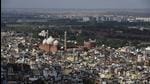 By
Sadia Akhtar
,
Risha Chitlangia
, New Delhi