Latest from markaz nizamuddin
A single-judge bench extended its earlier April 1 order after the Union government, through its counsel, told the court they have no objection if the current arrangement, in place for the opening of the mosque for Ramzan, is continued till the next date of hearing.

Published on May 03, 2022 01:09 AM IST
The court further directed the installation of CCTV cameras at the entry, exit and stairs of each floor of the premises and said that it shall be the responsibility of the markaz management to ensure that the cameras are fully functional during the period of Ramzan.

Published on Apr 01, 2022 11:04 PM IST
The high court on Wednesday allowed the reopening of all four floors of the Banglewali Masjid in the Nizamuddin Markaz complex in south-east Delhi a day ahead of Shab-e-Baraat.

Updated on Mar 18, 2022 04:56 AM IST
By
Sadia Akhtar
, New Delhi
Although the prime accused in the case, Jamaat's head Maulana Saad was never arrested.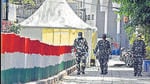 Updated on Mar 18, 2022 04:53 AM IST
The Markaz building in Nizamuddin has remained sealed since March 2020, over alleged violations of Covid-19 protocol during the Tablighi Jamaat conference held there that month.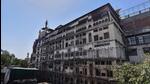 Updated on Mar 17, 2022 06:17 AM IST