Nine people were killed, and 58 people were injured. Fifteen years after one of India's worst terror attacks, multiple investigations, court cases, and a trail of tragedy, Zaffar still has no closure.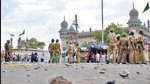 Ali Fazal visited Mecca and Medina and shared a video from the trip on Instagram. He also penned a note to conclude his feelings on the spiritual trip.

Workers have returned floor markings removed on October 17 to guide people to social distance in and around the Grand Mosque -- which is built around the Kaaba, the black cubic structure towards which Muslims around the world pray.

Union minister for minority affairs Mukhtar Abbas Naqvi said the selection process of Haj pilgrims will be in accordance with the coronavirus disease (Covid-19) guidelines.

Muharram 2021: Wondering whether to fast on the 9th or 10th of Muharram? Know the Islamic reason behind why Muslims fast on Ashura and the difference in the Ashura celebrations of Shias and Sunnis