Over a dozen Indian companies have publicly stated they will produce the pill, the patent for which was freed for low- and middle-income countries by the American pharma firm under the United Nations Medicines Patent Pool.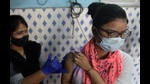 Updated on Dec 30, 2021 04:31 AM IST
The UK approved Molnupiravir In November. It was one of the first nations to approve the oral pill to treat patients suffering from mild to moderate Covid-19.


Published on Dec 05, 2021 02:58 PM IST
The drug, molnupiravir, could provide a much-needed weapon against the virus as colder weather pushes case counts higher and US officials brace for the arrival of the new omicron variant.

Updated on Dec 01, 2021 10:45 AM IST
In a statement Tuesday, the European Medicines Agency said it had started evaluating molnupiravir, made by Merck and Ridgeback Biotherapeutics, and that a decision could be made within weeks on whether it might be cleared.

Updated on Nov 24, 2021 12:20 AM IST
The antiviral, called molnupiravir, works by decreasing the ability of a virus to replicate, thereby slowing down the disease.

Published on Nov 04, 2021 05:31 PM IST
Molnupiravir is designed to introduce errors into the genetic code of the virus and would be the first oral antiviral medication for Covid-19

Published on Oct 02, 2021 08:17 PM IST
Written by Shankhyaneel Sarkar | Edited by Poulomi Ghosh
, Hindustan Times, New Delhi
US-based Merck halted the development of two of its own coronavirus vaccines in January to instead focus on its two Covid-19 treatments.

Published on Mar 02, 2021 07:29 PM IST
Reuters | | Posted by Kunal Gaurav