The head of the task force on Sunday claimed that the fire situation in Odisha is under control.


Updated on Mar 22, 2021 12:48 AM IST
A massive forest fire devastated large tracts of the Similipal biosphere reserve in the Mayurbhanj district of Odisha.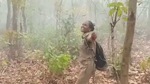 Updated on Mar 12, 2021 07:48 PM IST
Shared by Twitter user Dr. Yugal Kishore Mohanta, the video may leave you smiling.


Published on Mar 12, 2021 12:18 AM IST
There were at least 19,233 fire spots over Odisha since February 28 while 23,859 forest fires were counted since November 1 last year.


Updated on Mar 08, 2021 01:12 AM IST
Similipal, among the few included by the UNESCO in its list of critical biosphere reserves of the world, covers an area of 5569 sq km and contributes 38% of the total protected area network in Odisha. It is also one of the oldest tiger reserves in the country.


Published on Mar 03, 2021 11:40 PM IST