Extending to almost 160km with one-third lying in India and the other two-thirds in China, the Pangong Lake is the world's highest saltwater water body at an altitude of 4,350 metre, and a great attraction for the tourists visiting Ladakh.

Updated on Jun 19, 2022 09:11 AM IST
Both bridges are located across the narrowest section of the 134-km-long lake. They will cut the distance between Chinese troop positions on the north bank to a key People's Liberation Army (PLA) base at Rutog, on the eastern end of the lake, by around 150 km.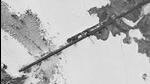 Updated on May 21, 2022 01:25 AM IST
The MEA said the Centre, on several occasions, had made it clear that the Union territories of J&K and Ladakh were an integral part of India and "we expect other countries to respect India's sovereignty and territorial integrity."

Updated on May 20, 2022 07:15 PM IST
The second bridge is being constructed parallel to the first bridge, which is narrower and was completed in April this year.

Updated on May 19, 2022 06:35 AM IST
China has said for the first time that soldiers of the People's Liberation Army (PLA) have disengaged in the Hot Spring area of Line of Actual Control (LAC) in eastern Ladakh.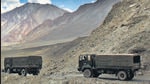 Updated on Mar 16, 2022 07:03 AM IST