The State must be able to defend itself against internal and external aggression. But should such action come at the cost of constitutional rights?

Published on Jun 04, 2023 09:00 PM IST
Gogoi was arrested in December 2019 for his alleged Maoist links following his participation in protests against the Citizenship (Amendment) Act

Updated on Apr 19, 2023 09:18 AM IST
The Supreme Court affirmed the revival of a UAPA case against Akhil Gogoi in connection with the violence during the protests against CAA in 2019.

Published on Apr 18, 2023 11:09 AM IST
Shehla Rashid was, in September 2019, booked on a complaint by lawyer Alakh Alok Srivastava's over her tweets a month prior, which accused the armed forces of ransacking houses and "creating an environment of fear" in Kashmir.

Updated on Jan 11, 2023 05:16 AM IST
By
Alok KN Mishra
, New Delhi
Stating that "some changes" in the 152-year-old penal provision of sedition could happen before the next parliament session, the Union government on Monday assured the Supreme Court that the colonial-era law would continue to remain on hold until the process of reviewing the provision is complete.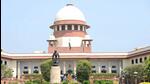 Updated on Nov 01, 2022 01:38 AM IST