Babil Khan's ode to father Irrfan Khan has left people teary-eyed. Watch
Jan 15, 2023 04:07 PM IST
Irrfan Khan's son Babil Khan opened up about his childhood at an event and shared the lessons that his late father taught him.
Irrfan Khan's son Babil Khan, who made his acting debut with Netflix's Qala, shared a heartfelt ode to his late father at Kommune's Spoken Fest 2022, and it has left many teary-eyed. The video captures Babil opening up about his childhood, losing his 'bestest friend' and sharing the lessons that Irrfan taught him.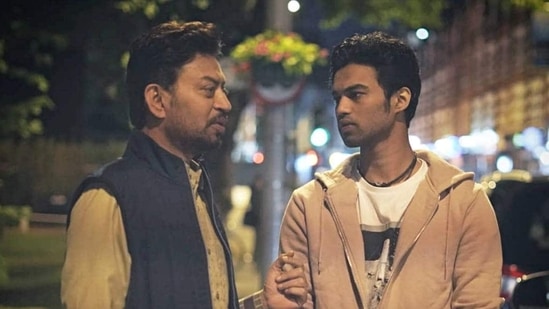 In the video, Babil Khan shares how his parents kept him away from 'conventions, societal norms, saturated food'. Babil, who received a Steiner education while growing up, was a misfit around other kids. Soon, Irrfan realised this and moved his family to Madh Island.
Stay tuned with breaking news on HT Channel on Facebook.
Join Now
Babil then shares how he enjoyed his life at Madh Island by swimming in lakes and taking naps on the branches of trees, among other things. He soon got bored as he had no one but Irrfan to share his adventures with, who was a 'busy man'. After some time, Babil became lonely and prayed to God. He even expressed his desire to 'meet God'.
The Qala actor then narrates how Irrfan granted him his wish. The late actor laid Babil on the water and let him float. Little Babil then 'hesitated, splashed around and tried to regain control'. Irrfan then pulled him out of the water, and this exercise of 'meeting God' continued for ten days. However, on the tenth day, Babil allowed the river to take him, and that's when Irrfan said to him, "Today you met God."
"Baba, my bestest friend, my soulmate, the only friend that I never had to change myself to fit in, disappeared forever from my life," Babil also says in the video.
Watch the video below:
Since being shared a week ago on YouTube, the video has received more than 7.7 lakh views and over 36,000 likes. The share has also received numerous comments from netizens.
Here's how people reacted to the heartening video:
"Irfaan Khan has indeed earned a life and left a rich legacy️," posted an individual. "Anybody else feel emotionally connected with this person? I feel like I know him. I'm not a very thorough listener, but I guess I could listen to him all day. Makes me want to know him more. I was shedding tears while watching this but I want to hear more about his life," wrote another. A third shared, "This story is so raw and honest - my favourite moments are the ones where he just giggles unabashedly or stays still between sentences, feeling the emotions of the story. Could watch this on repeat forever." "I can see Irrfan sir in him. That innocent voice and kindness… all his words were like rivers flowing calmly and so poetic," commented a fourth with a heart emoticon.