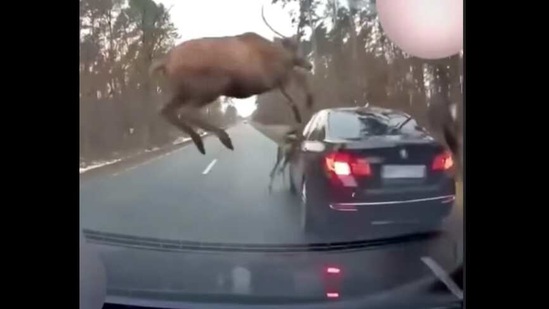 Car gets caught in middle of sudden deer stampede in Michigan. Watch
"Omg!" wrote a Facebook user while reacting to the video.
By Trisha Sengupta
PUBLISHED ON MAR 10, 2021 01:06 PM IST
A video capturing a moment when a car got caught in the middle of a sudden deer stampede has left people surprised. Shared on official Facebook profile of Oakland County Sheriff's Office, the incident took place on a Michigan road.
The video opens to show cars going through a road when suddenly a few deer start leaping across the road in front of one of the vehicles. Almost instantly, the car comes to a stop. Thankfully, the caption shared alongside the video explains that no one was hurt.
"This goes for making a crazy day. It looks like no one was hurt and all the animals we're OK at the end of it, but I am sure there was some very fast beating hearts! Another reminder you have to always be in control of your car and not distracted by anything else," the department wrote while sharing the video.
Since being shared, the video has received tons of comments. A few expressed how the situation would have left them scared. Some expressed astonishment at the incident. Just like this individual who wrote, "Wow." The same notion was expressed by a few others too.
"That would be so scary," shared a Facebook user. "Omg!" expressed another.
What are your thoughts on the video?
Topics
Close