Dog imitates human's baby in falling down. Watch adorable video
Published on Jun 07, 2022 12:44 PM IST
The dog imitated its human's baby in falling down and it is adorable to watch.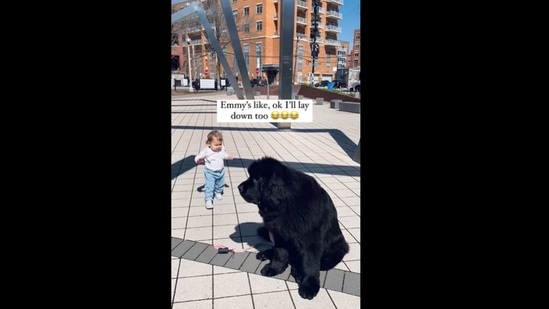 Dogs are such awesome pets that shower a lot of love and affection towards their humans. Doggos also bond with their human's babies a lot and it is adorable to watch videos of them playing with toddlers. Like this video posted on Instagram that shows a dog and a baby.
The video was posted on Instagram by emmy_the_newf, a dog account on May 17. It has received more than 2.57 lakh views since being uploaded. "Emmy's like, ok I'll lay down too," says a text insert on the video. The video shows a cute toddler walking over to the large black dog named Emmy. The baby tries to touch and pet the dog but falls down while doing so. And in a really sweet gesture, the dog also lays down after seeing the baby.
"When baby falls down, so does Emmy," says the caption of the video along with a laughing emoji.
Watch the video below:
The video has got more than 10,000 likes and several comments.
"Emmy is so sweet," commented an Instagram user. "Emmy is so beautiful!" wrote another. "Gosh that dog is gorgeous," said a third. "I've noticed that she hardly ever gets too close to big doggy… she just calmly walks up on him while he is chillin', then she'll touch him once and run off run," reads another comment.
Emmy, the dog, lives in Chicago and it is training to become a therapy dog according to its Instagram bio. The dog account has more than 12,000 followers on Instagram.
What are your thoughts on this adorable video?
Personalise your news feed. Follow trending topics