Flight attendant holds nervous passenger's hand, sits on floor to comfort her
Jan 26, 2023 05:17 PM IST
The heartwarming story of a flight attendant comforting a nervous passenger was shared on Facebook. An individual reacted to it and wrote, "Thank you for sharing this. The world needs more flying angels like Floyd."
While most of us love flying, some don't and adamantly refuse to do it for myriad reasons, including the fear of flying. However, there are times when one needs to overcome this fear and take an air route to reach their destination faster. And this is just what happened with a woman who confronted her fear and boarded a JFK-bound flight. Though she boarded the flight, she was visibly terrified. That's when a Delta flight attendant, Floyd Dean-Shannon, comforted her. He explained to her 'every sound and bump', and when fear became overwhelming for the woman, he gave her his undivided attention. Floyd sat on the floor the entire flight and held her hand to comfort her.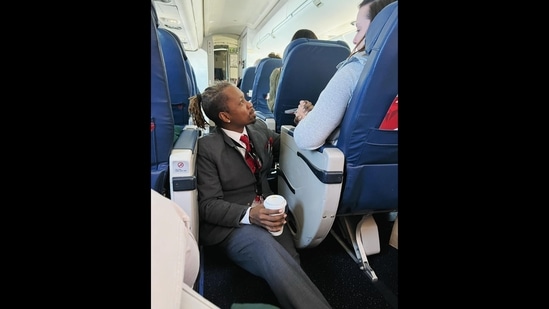 A Facebook user Molly Simonson Lee, who was on the same flight, shared the entire incident on his timeline. And as expected, it soon attracted the attention of Internet users. "Check out this gem of a flight attendant that was on our flight from CLT to JFK. This woman was so nervous about flying, so he explained every sound and bump and even sat here holding her hand when it still got to be too much for her. @delta , Floyd Dean-Shannon deserves a raise!" wrote Lee while sharing a picture on Facebook.
The picture shared by Lee shows Floyd sitting on the floor, holding a beverage in one hand and the distressed passenger's hand in the other. He is even looking at her to let her know that she's safe.
Take a look at the picture below:
Since being shared on January 14 on Facebook, the post has accumulated over 12,000 reactions. It has also amassed over 1,200 comments and has been shared over 11,000 times.
Here's how people reacted to the flight attendant's kind gesture:
"Thank you for sharing this. The world needs more flying angels like Floyd," posted a Facebook user. "A wonderful act of kindness. Thank you, Floyd. People like you are what the world needs more of," wrote another. A third shared, "This is wonderful Molly, so happy that you posted this. THANK YOU for this feel good story! What a guy." "Thank you Sir for being able to give her the confidence to be able to complete her flight. Many people have various stages of anxiety while flying. It may/may not be obvious. This gentleman picked up on the signals and did a great job," commented a fourth. "So refreshing to see there is still LOVE and compassion in the world we are living in today. God bless you!!!" expressed a fifth.