Goose undergoing emergency surgery gets surprise visit from mate. See pics
"Through sickness and health...here is your feel good story of the day," reads the first line of the post that describes the incident of the goose visiting its mate.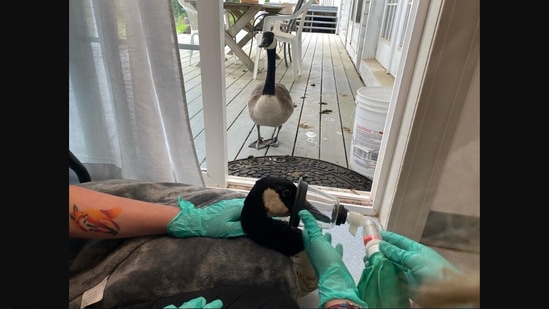 Published on Jul 17, 2021 03:14 PM IST
If you're looking for a wholesome story to make your Saturday brighter, here's a tale of an adorable reaction of a goose when its mate was taken to surgery. Shared on Instagram by Birdsey Cape Wildlife Center, a post details how the goose showed up at the medical centre to be with its mate.
"Through sickness and health...here is your feel good story of the day," the medical centre wrote. In the next few lines, they described how one of the geese came to their facility.
"This Canada goose, we refer to as Arnold, lives on a pond near our facility. He is part of a mated pair that has been together for several years. They are totally wild and usually keep to themselves when people are around, but yesterday our staff noticed that Arnold had developed a significant limp and was continuously falling over. With some effort we were able to catch Arnold and bring him in for a veterinary exam, one of the "perks" of having a wildlife hospital in your backyard," they wrote. Then added, upon examination it was decided that he was in need of an emergency surgery.
The next day when the medical workers were taking Arnold for surgery they heard a tapping at the clinic door. They turned to see that it was his mate attempting to break into the place .The staff then decided to perform the procedure in a place where the goose could watch Arnold. They also added how after the surgery they allowed both to meet and the birds instantly became more at ease in each other's presence. The post is complete with a few images of the duo.
Take a look at the Instagram post:
+
Since being posted some 11 hours ago, the shared has gathered tons of comments from people. "That is so sweet," wrote an Instagram user. "Absolutely love this," shared another. "This is a wonderful story. Thank you for sharing," posted a third.
What are your thoughts on this display of love?
Topics
Close Story