House cat comforts stray kitten and shows her around. Watch heartwarming video
Published on Jul 25, 2022 08:03 PM IST
The video that shows a stray kitten getting comforted by a house cat was posted on Instagram.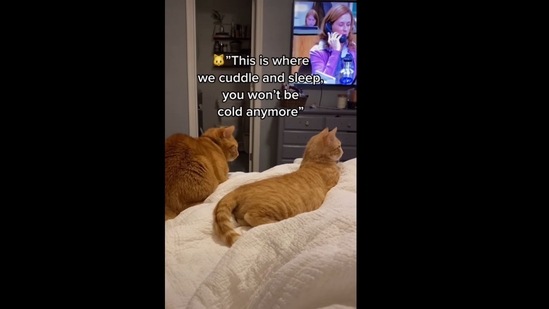 There are several videos posted online that feature acts of kindness and fill us up with a warm and happy feeling. Just like this video on Instagram that showcases a house cat comforting a stray kitten. The adorable video is making the Internet swell with happiness and may also bring a smile to your face.
The video was initially shared by the Instagram page dedicated to the cats with the caption,"He's so sweet to her it's so cute." The page is dedicated to four cats: Nala, Diggle, Oliver and Nora. It was later shared by the Insta page named Cats of Instagram.
The video opens with a text insert that says, "She was found on the street out in the cold." It then shows how a stray kitten named Nala gets comforted by the house cat named Diggle, who later shows her around. The video ends with a text insert, "Welcome home."
Watch the heartwarming video below:
The clip was shared a few weeks ago and has accumulated more than 1.4 million views. It has also gathered varied comments.
"Awwweee....so sweet and it looks like they are great buddies too!" posted an Instagram user. "I could watch this post all day!! I saw it awhile ago but it never gets boring!" wrote another. "This is the sweetest video I've seen in awhile," expressed a third. "Aww this is the sweetest story of all time!" commented a fourth. "What a beautiful soul you are to take her into your home and give her the love she deserves," pointed a fifth. "Just sat here & bawled my eyes out to this while my two rescues who are bonded brothers from the same litter fly around the living room, chasing each other," shared a sixth.
Topics
Personalise your news feed. Follow trending topics