To Gulzar Sahab and his words
Published on Aug 18, 2021 09:20 PM IST
Your words carry power and feelings that only tend to make a lasting impact on everyone. From soulful lyrics to enthralling poetry, your words always win our hearts. The words you write have been making people marvel at your thoughts past five decades, and today's a reminder that we are here for more.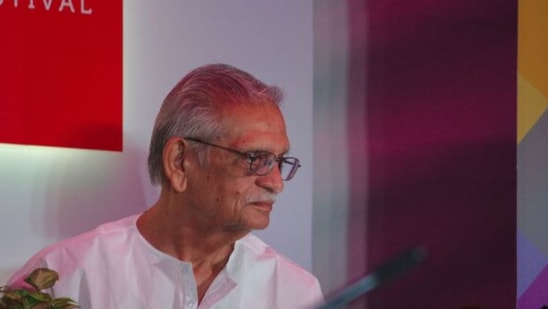 Born on 18th August 1934
"Aane wala pal jane wala hai.
Ho sake toh isme, Zindagi bita do,
Pal jo yeh jaane wala hai."
Coming across Gulzar Saab's words can make one contemplate life and love all parts of it. From weaving beautiful stories, penning down small poems, coming up with pleasingly true lyrics, and even directing amusing movies, his pen never stops making people admire him. Gulzar Saab's name echoes throughout the Hindi film industry when one talks about impressive screenplays, dialogues, or lyrics. With some of the most engrossing directions under his name, he is today a renowned man who believes in the empowerment of the lesser represented.
Sampooran Singh Kalra aka Gulzar grew up hearing his father say "As a writer, you will have to depend on your brothers" but seldom did his father know that his son would go on reigning in the world of writing. Born on August 18, 1934, Gulzar initially lived in the Jhelum district of British India. School studies took the mercy of introducing him to Tagore's writings and to his young mind, they inspired something very big. Writing then became his everyday muse.
Due to problems within his family ties, Gulzar had to discontinue his studies and support his family by earning. He thus shifted to Bombay.
Looking for small jobs here and there, he ended up being a touch-up painter for damaged cars in a garage somewhere. All this time he also made sure to pursue his interest in poetry and had become fond of it. Although rebuked by his father about it, Gulzar had become associated with the Progressive Writers' Association. This period in his life was quite enjoyable for him since he had the chance of attending college, work as a painter (he loved mixing colors!), and read a lot.
His interactions with the PWA helped him become good friends with the talented lyricist Shailendra and director Bimal Roy. They ended up encouraging Gulzar to try for films and with that being said, he had begun his journey towards the film industry.
Gulzar Saab's career thus began under the directors Bimal Roy and Hrishikesh Mukherjee. He started out as a songwriter working with music director- S.D Burman for the movie Bandini.
Later he wrote the dialogues and lyrics for the film Aashirwad which helped in adding a poetic attribute to the acting of Ashok Kumar by eventually helping him win the Filmfare Award for best actor. However, Gulzar's breakthrough as a lyricist happened when the world took notice of these lines—
"Humne dekhi hai un aankhon ki mehakti khushboo
Haath sey chhoo ke ise rishtoon ka koi naam na do"
This was for the movie Khamoshi in 1969. Gulzar Saab's abstract yet creative play around words was thus discovered as a brilliantly unique masterpiece afterward. This song led to the emergence of Gulzar's capability to gleefully capture moments of surreal imagery through words. Gradually, movies and work came running along his way.
He then wrote for for Kabuliwala, Sannaata, Do Dooni Chaar Biwi Aur Makan etc. He worked closely with R.D Burman but also other music directors like Laxmikant-Pyarelal, S.D Burman, Madan Mohan, and Rajesh Roshan.
Gulzar marked his debut as a director with the movie Mere Apne in 1971 featuring Meena Kumari as an old woman struggling with life, loneliness, and death.
His direction along with his lyrics saying "Koi hota jisko apna hum apna keh lete yaaro" managed to connect with the audience and thus received a very positive response. This made Gulzar experiment with his vices and interests through the movies he directed later. Eventually, movies like Koshish, Parichay, Achanak, Kinara came up with his creative style of having the protagonist take all their decisions. His films would largely talk about social issues in a flashback narrative while they would be entangled with human relationships.
Many actors like Sanjeev Kumar, Vinod Khanna, Hema Malini, and Jeetendra worked with Gulzar Saab to attain respectability as artists. These work experiences would result in one of their best performances in return. In 1988, he collaborated with Naseeruddin Shah to direct the TV serial Mirza Ghalib which was later broadcasted on Doordarshan. Apart from that, Gulzar Saab has also been known for writing ghazals for the ghazal virtuoso Jagjit Singh.
Gulzar Saab's unbelievable talent and artistic handling of words have made him sweep of numerous high-ranking awards from a Grammy to the honorary Padma Bhushan, he has a lot under his name.
He has a total of 36 awards in his account including 5 National Film Awards, 22 Filmfare Awards, 1 Academy Award for Best Original Song(Slumdog Millionaire), 1 Grammy Award, Sahitya Akademi Award for Urdu, Padma Bhushan, and one Dadasaheb Phalke Award.
Today Gulzar Saab can look back to the words of his father and quote him a sweet nazm saying success comes up eventually if you are passionate about something. His story is nothing less than the words he has dedicated his life to. Gulzar Saab has managed to make us all marvel over his creativity timelessly from "Tere bina zindagi se shiqwa to nahin" to "Kajraare Kajraare" and will forever do so.
This story was first published in ThisDay.app.
Close Story
Personalise your news feed. Follow trending topics