Bigg Boss 12, Weekend Ka Vaar, day 55 highlights: Salman Khan pulls up Surbhi Rana, Deepak Thakur
Updated on Nov 11, 2018 12:36 PM IST
All eyes were on Salman Khan and Happy Club members — Romil Chaudhary, Somi Khan, Deepak Thakur and Surbhi Rana—as one of them will be eliminated on this week's Bigg Boss 12 Weekend Ka Vaar. On Saturday, Salman came down heavily on Deepak for his behaviour towards Jasleen Matharu.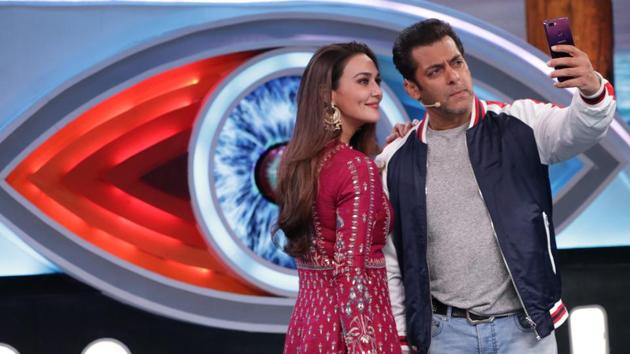 Bigg Boss 12, November 10 Weekend Ka Vaar (day 55 ) episode began with Salman Khan giving us an update of all that had happened in the week gone by. He was appreciative of Romil Chaudhary for giving up his chance of talking to his family for Somi Khan. He also mentioned how four members had been nominated for elimination, all being from the Happy Club.
Soon, we were witness to yet another outburst inside the house—this time between Sreesanth and Srishty Rode. It so happened that in the morning, Jasleen, Srishty and Rohit were having a good time when suddenly Sreesanth asked Srishty to not take his name in their revelry. This got her goat and she yelled at him, saying she would. Both went at each other; she finally prevailed as Sreesanth withdrew.
There was task performed where each of the nominated candidates had to pick one candidate whom they thought was fit to leave the house and then dunk him/her with ice, cow dung, rotten tomatoes and finally flour. Here's who chose whom: Somi chose Shivashish; Romil chose Srishty, Surbhi chose Rohit while Deepak chose Jasleen.
Soon, it was time for Salman to meet the contestants — Salman wished Sreesanth a belated Happy Birthday while he congratulated Karanvir Bohra over his victory (and the fabric of his suit). He also joked with Deepak about the possibility of him giving up the video call for Somi in the manner Romil had done. Later, he reasoned with the contestants up for nomination about their choice for reverse nomination--while he agreed with three choices, Salman was not convinced with Romil's choice of Srishty. Romil, of course, held his ground.
Then, Salman turned to Dipika and to the drama around Karanvir winning the captaincy on Friday. He found fault with Dipika about the manner in which she conducted the proceedings calling her the worse sanchalak till date. Others too, mostly Surbhi, accused her of being partial towards Karanvir and knocking off Somi early in the competition. Dipika did her best to defend her stand, adding how all had agreed on Friday that Karanvir's bowl had some water left, but had now conveniently backed off. It was her turn to go the torture room, where she had a face slapped by a dead fish.
But the real hot issue of the day was Salman going after Deepak for calling Jasleen a gold digger! He flatly questioned his logic of getting personal on someone else's personal matters, when in fact Deepak was quick to cry himself, if someone had something adverse to say about him. He accuses Deepak of indulging in character assassination. He also pulled up Surbhi for supporting Deepak in this. Later, both apologized to Jasleen on national television.
Salman later declared that Sreesanth had emerged as the mastermind on the show, leaving Romil in the shadows.
Then, it was the time for a guest to enter the scene and in walked Preity Zinta. At the set, soon a dance off ensued between the two with both dancing to songs from films like Jeet, Mission Kashmir, Judwaa and Hum Aapke Hain Koun! It was fun.
Later Preity entered the house and had a task for all. She divided them into two teams and declared that the winning teams members had a chance to escape from nominations in the upcoming week.
Meanwhile, towards the end of Weekend Ka Vaar, Salman declared that eviction would happen only on Sunday.
Personalise your news feed. Follow trending topics