Bigg Boss 12, Weekend Ka Vaar, day 63 LIVE updates: Salman cancels evictions because of Shivashish
Nov 18, 2018 10:12 PM IST
Before fans could recover from Shivashish's shocking eviction, the story surged on in Sunday's episode of Bigg Boss 12, Weekend Ka Vaar. The episode featured special guest Farah Khan - a former host of the reality show - who arrived with an audio/visual treat for Salman Khan and the viewers.Farah's video showed how the relationships were changing in the house and how certain contestants show recurring traits. For example, she told Salman that Sreesanth usually complains about not wanting to go to the jail, but ends up going anyway after eating some food.Farah also visited the house, where she posed a few challenges before the housemates. Sreesanth was made to stand before everyone, with his mouth taped shut, as the others told him to his face what they don't like about him. Meanwhile, Jasleen was judged the most jealous of the lot, and Romil was told to throw a bucketful of water on her so that she stops burning with jealousy.Jasleen's clashing relationship with Srishty was further instigated in the Sultani Akhada round with Salman, with the two wearing sumo costumes and duking it out.Stay tuned for all the LIVE updates from Bigg Boss 12 here.
10:10 pm IST
Episode ends with huge fight between Romil and Dipika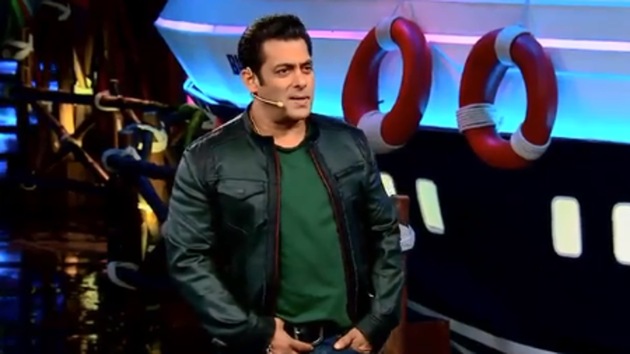 Dipika is angry at Romil's decision to mention her husband in the game they played earlier. She yells at him and becomes emotional. Sreesanth comforts her, while the others try to explain the situation to Romil.
10:00 pm IST
Salman cancels eviction
Deepak, Sreesanth, Dipika, Jasleen, Srishty and Romil are the nominated contestants. Salman says that because Shivashish has already been evicted, there will not be any further evictions this week.
9:55 pm IST
Jasleen and Srishty fight in the Sultani Akhada
Srishty calls Jasleen loud in the verbal duel, and Jasleen responds by calling Srishty indecisive. Salman declares Srishty the winner of the first round.
Srishty and Jasleen then battle it out in the physical task, in which they're made to fight in sumo wrestling suits. Jasleen wins this round and with it the Sultani Akhada match.
9:50 pm IST
Salman talks to Somi's family
Somi's mother says she's very happy for Somi and at the chance of getting to talk to Salman. Salman asks Somi's mother about her being linked up to Deepak. Somi's mother says that they're kids and it's all part of the game. Salman salutes Somi and Saba's mother for single-handedly raising the two girls.
9:40 pm IST
Salman plays a game with the contestants
Salman shows the contestants a board with a sentence written on it - 'itna hi___tha toh ___ ghar mein aaye kyun?" - but with some words missing. Salman asks the contestants to fill in the blanks. Romil, Srishty and Somi give Sreesanth's name, Karanvir gives his own name. Megha names four people, but Salman stops her. She chooses Romil. Dipika also chooses Romil, because she thinks that he doesn't follow the rules of the show. Sreesanth names Karanvir and Rohit names Megha.
9:30 pm IST
Farah sorts contestants on the basis of their sins
Romil is declared to be the laziest contestant. Sreesanth is judged to be the angriest, Jasleen the most gluttonous and the most vain and the most jealous. Deepak, meanwhile, is judged as the greediest.
9:25 pm IST
Romil and Srishty conduct a talk show
In the second task Romil is tasked with hosting a talk show, featuring guest Srishty, who pretends to be a 'bahu' - based on Dipika. The scene includes Srishty complaining about the house, but only the domestic matters - like running out of food and missing her husband.
Srishty's second character is based on Megha, whom she plays as a loud fighter.
Next, Srishty pretends to be Sreesanth, and threatens everyone that she'll beat them up.
9:20 pm IST
Farah enters the house
Now that the fun and games are over, Farah enters the house with some challenges for the contestants.She asks Deepak and Somi to perform on the Dilwale song Gerua. But Farah isn't impressed, so she asks Deepak to perform with Rohit, which entertains all the housemates.
9:15 pm IST
Farah names her top three contestants
When Salman asks Farah to name her top three contestants, she puts Sreesanth at the number one spot, followed by Deepak and then Dipika.
9:10 pm IST
Farah shows a video of Sreesanth
Next up is Sreesanth, whom she says likes to make a big show of things, before complying. She gives the example of how Sreesanth always complains about not wanting to go to the jail, but ends up going anyway after having some food.
9:00 pm IST
Farah Khan arrives on the show
Salman Khan welcomes director/choreographer Farah Khan on the show. Farah had previously filled in for Salman as host in an earlier season when Salman had to fulfil his film commitments.
Farah says Bigg Boss is her favourite show, and proceeds to discuss the contestants. She says Dipika is behaving like Meena Kumari in the house and being overdramatic. Farah thinks Dipika has genuine feelings for Sreesanth.
Farah next shows Salman a video of Megha, whom she feels likes to be at the centre of the action.After this Farah shows the audiences and Salman a video of Deepak and how he flares up.