Bigg Boss 12 Weekend Ka Vaar highlights: Salman Khan enters the house as contestant with partner Govinda
On Saturday's Weekend Ka Vaar, fans will get a special treat from Bigg Boss. Host Salman Khan will enter the house as a contest and joining him will be his partner Govinda. Govinda will also join Salman on stage to interact with the contestants and play games with them. Check out highlights from the show: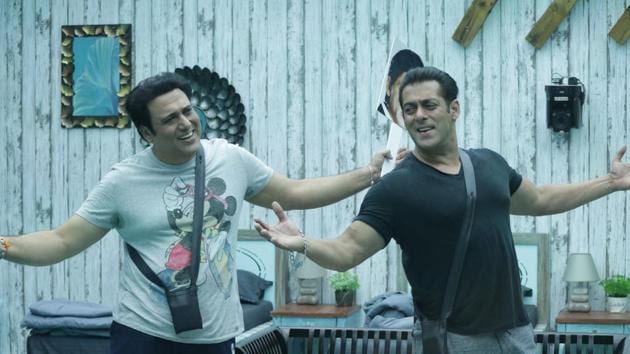 Updated on Oct 06, 2018 10:40 PM IST
10:26 pm IST
Deepak screams at Shivashish and Sourabh
Deepak accuses Shivashish of playing unfair in the game. In a loud screaming match, Deepak locks horns with Shivashish and Sourabh.
10:22 pm IST
Nehha gets slimed
Nehha Pendse was declared the 'gunhegaar' of the week. She was sent to the torture chamber where she got slimed with green goo.
10:11pm IST
Salman tells Nehha what she missed during task
Salman tells Nehha it appeared she disqualified Somi from the task on purpose and even told her that she missed how Shivashish was switching hands during the task.
10:00 pm IST
Surbhi says Sreesanth gets too emotional
Surbhi says she didn't like when Sreesanth said that Shivashish should go easy on a girl during the task. She didn't like his condescending tone and that women should be seen at equals at any task.
9:58 pm IST
Salman discusses volcano task
Salman asks the singles why they were outperformed in the task and they gave up midway. The singles say their strategies fired back at them.
9:51 pm IST
Salman says singles are playing it safe
Salman Khan says Nehha, Sreesanth and Karanvir were trying to avoid naming their teammates and get out safe which came to bite them back.
9:48 pm IST
Salman grills the nominees
Salman asks Nehha, Karanvir and Sreesanth why they think they have been nominated for eliminations. Romil says their 'mahanta' in nominating themselves for kaalkothri got them in trouble.
9:35 pm IST
Govinda asks Salman to name his girlfriend
Salman decided not to take a name and he too decides to dodge the question. He also could not answer which of his two brothers, Sohail or Arbaaz, is his favourite.
9:31 pm IST
Salman asks Govinda to choose between Shah Rukh and him
As part of another game, Salman asks Govinda to choose between him and Shah Rukh. Govinda says Salman is better in looks and doesn't take a name when asked who is the better actor.
9:26 pm IST
Govinda, Salman dance together
Govinda and Salman are asked to identify songs as they dance together. They guess Kisi Disco Mein Jaayein, Ye Pagla Hai, Mae Se Mina Se and I Am A DIsco Dancer. Salman was particularly bad at guessing the songs.
9:24 pm IST
Salman asks contestants to sell each other
Surbhi is asked to sell Sreesanth pressure cooker, Dipika is asked to sell Surbhi bomb and Deepak is asked to sell Jasleen's knife and Anup's pumpkin.
Kya pressure cooker ke baat par badhega #SurbhiRana aur @sreesanth36 ke beech gusse ka temperature? Dekhiye #BB12 mein abhi. #BiggBoss12 #WeekendKaVaar @cpplusglobal pic.twitter.com/0lBJVFUn6B

— COLORS (@ColorsTV) October 6, 2018
9:21pm IST
Romil gets a top ki salaami
Salman asks the contestants the one guy who manipulates everyone in the show. Romil gets to put his face in a canon and gets puff of soot in his face.
9:18pm IST
Sreesanth and Shivahish fake-fight
Govinda and Salman pulled Sreesanth and Shivashish by make them repeat Govinda's very tough dialogues.
9:15 pm IST
Govinda pitches his film
Govinda promotes his film Fryday with a surprising dialogue from the film. He also meet the contestants and tells them a few insults they could try the next time they get in a fight.
9:12 pm IST
Somi calls Surbhi dramebaaz
Somi tells Surbhi she is a drama queen and makes others her target to stay in limelight.
9:09 pm IST
Contestants target Surbhi in task
Sreesanth, Dipika and Shrishti splash mud on Surbhi's cutout as they are unhappy with her attitude and mean spirit. Urvashi and Deepak splash the more positive sandalwood paste on her as they think she is straightforward.
#SurbhiRana aur #RomilChoudhary ki nayi saazish kya layegi unpar keechad ki baarish? #BB12 #BiggBoss12 #WeekendKaVaar pic.twitter.com/TzmImmxNuF

— COLORS (@ColorsTV) October 6, 2018
9:06 pm IST
Govinda joins Salman on stage
Govinda and Salman count all the contestants who are left in the house now. They count 15 contestants.
9:05 pm IST
Govinda, Salman nominate Bollywood stars
Govinda and Salman Khan believe Shah Rukh Khan, Akshay Kumar and Sanjay Dutt cannot be nominated. Bigg Boss kicks them out for discussing nominations.
9:00 pm IST
Govinda and Salman wake up in the house
Salman Khan and Govinda wake up to their song from their hit movie Partner. They are trying to figure out what to eat and who to nominate.
Topics
Close Story