Game of Thrones 8: From Dracarys to Mhysa, 5 scenes that prove Daenerys Targaryen is the most formidable of them all
Updated on Mar 27, 2019 01:34 PM IST
Game of Thrones 8: As we wait for the final season of HBO's fantasy show, revisit Daenerys Targaryen's five best scenes.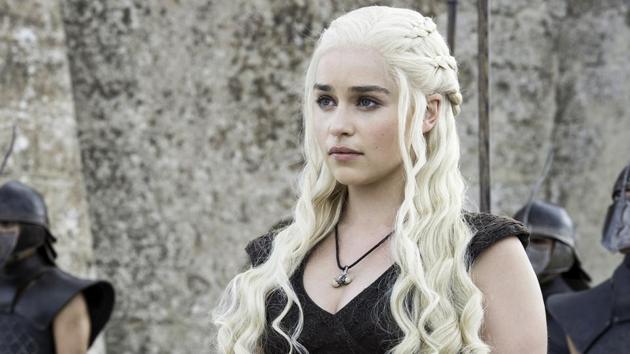 No other character on HBO's Game of Thrones has had quite the grand story arc as that of Daenerys Targaryen. Played by Emilia Clarke in the series, the character has survived more atrocities than perhaps any other, but has also been handsomely rewarded for her troubles.
She was introduced in the first season of Game of Thrones as one of only two survivors of the House Targaryen, along with her evil twin Viserys. She concluded her arc in those early episodes by literally being reborn as a queen, establishing herself as the most formidable contender for the Iron Throne.
What followed in the successive seasons was a systematic takeover on Dany's part of multiple towns and their armies, increasing her fire power and developing a legendary reputation among her rivals.
Since the show spends so much time in different locations, focusing on individual characters and their separate journeys, it's always a welcome sight to have stories intersect, which is what happened at the end of the last season, when Dany crossed paths with Jon Snow.
Where this new union takes them - professionally and strategically - is one of the biggest mysteries of the upcoming eighth and final season of the show, due out in April.
Until then, here are the top five scenes to feature Daenerys. You can read similar stories for Jaime, Arya, Sansa, Tyrion and Cersei by clicking on their names.
The Unburnt
When Daenerys decides to join Khal Drogo in his funeral pyre, it establishes not only the character she is, but who she is about to become. As she emerges from the flames with her three dragon hatchlings, it makes for a stunning finale to the season.
Dracarys
Dany's relationship with her dragons is one of the show's best ongoing arcs. But one of the first occasions when we witnessed their sheer collective power came in the show's third season, when she commands Drogon to do her bidding and free the Unsullied army by saying, "Dracarys" ('Dragonfire' in High Valyrian).
Mhysa
On many occasions in the series, Dany frees and then wins the trust of massive armies. One such example was when she freed the slaves of Yunkai, who respond by addressing her as 'Mhysa' - not just the Mother of Dragons, but also a Breaker of Chains.
Fire and Blood
When Daenerys emerges from the flames of a burning Dothraki temple, she not only established herself as a formidable queen, who can get what she wants without the help of her dragons, but also as someone who has principles. The season six scene was one of the most cathartic the series has ever produced.
Battle of Meereen
For the first time ever, fans got to see each of Dany's three dragons in action, as they took out entire armies on earth, sea and the sky. There had been several similar moments before, but this was the one that signalled most strongly that Dany had arrived, and meant business.
Follow @htshowbiz for more