Vinta Nanda recounts rape trauma, Alok Nath calls claims absurd: Who said what
Updated on Oct 09, 2018 07:02 PM IST
Tara writer Vinta Nanda accused Alok Nath of sexual harassment, actor Navneet Nishan also made allegations and here's what everyone said.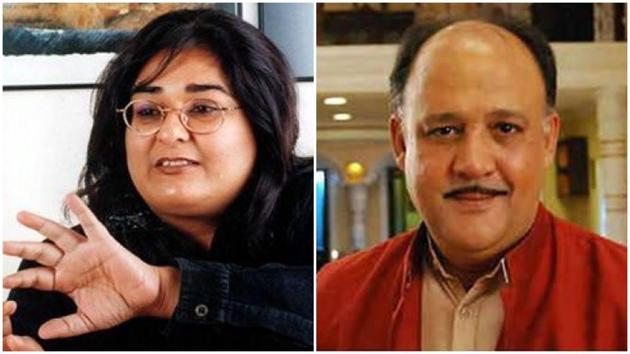 Hindustan Times |
HT Correspondent
TV writer-producer Vinta Nanda's searing account of rape has left the social media shocked, adding yet another harrowing chapter to India's #MeToo campaign. In a long Facebook post on Monday, the woman behind one of India's most forward looking soaps from 90s, Tara, accused actor Alok Nath of assaulting her sexually on more than one occasion.
"I have waited for this moment to come for 19 years," Nanda wrote in a long, heart-wrenching Facebook post, referring to the "predator in question" as "the actor par excellence who is known as the most 'sanskaari' (cultured) person in the film and television industry".
Alok Nath, famous as the 'sanskaari bapuji' from family dramas, told ABP News that he neither 'denies nor agrees with Vinta Nanda's allegations and that 'only what a woman says will be considered.'
1. Nanda recounted her personal trauma saying she left a party at 2 am. "I started to walk home on the empty streets... Midway I was accosted by this man who was driving his own car and he asked me to sit in it and said he would drop me home. I trusted him and sat in his car. I have faint memory after that. I can remember more liquor being poured into my mouth and I remember being violated endlessly. When I woke up the next afternoon, I was in pain," she wrote. She also wrote how the actor first harassed the lead actress on the sets of Tara - Navneet Nishan, not named in the post - and that his alleged conduct got so bad that Ms Nanda and her production associates decided to let him go. Pressure from the TV channel ended with Tara going off air abruptly and Ms Nanda's other shows being cancelled as well.
2. CINTAA general secretary Sushant Singh has said a show-cause notice will be sent to Alok, asking why he should not be expelled. He urged Nanda to file a complaint against "this vile creature", and added: "We extend you full support".
3. Tara's lead actor Navneet Nishan told PTI that she "empathise with Vinta for the terrible pain she has gone through". Saying that she dealt with four years of harassment from the same actor, she added, "It is unimaginable. I dealt with the four year harassment by slapping the man in question and it is done and dusted. l suffered the loss of the show and was further shamed by the man through media and I endured that. I fought my battles there and then. I am immensely glad that the power trip and sexual dominance coming from this power is being called out. It is high time."
4. In a poorly worded and dismissive explanation, Alok Nath told ABP, "Neither I am denying this nor do I agree with it. It (rape) must have happened, but someone else would have done it. Well, I do not want to talk much about it. As for the matter, if it has come out, it will be stretched." Sounding patronizing of #MeToo campaign, he said, "We only have to hear to women's stand because they are considered weak."
5. Alok Nath also claimed he made Vinta "what she is". Asked about his 'sanskaari' image, Alok said: "What do I have to do with people? People will say anything to spoil the image. Leave my image, whatever has been said, it is absurd."
6. At a press conference on Tuesday, Nanda said she is no longer afraid. "I am at a place in my life now where I am not afraid. I have spoken about it. I am not ashamed. The man who did this to me should be ashamed," she said.
7. Talking about how the assault changed her fundamentally as a person, she said, "I took a lot of time to open up. For the longest time I thought it was my mistake. Why did I go to that party and why did I take those drinks? Why I am so bold? Why do I talk so much? Why do I talk among men? I thought what happened with me was fair. By the time the disturbance became so grave I could not bear it and I came out but everybody around me told me 'You are crazy, shut up, bury it'. Going to police meant reopening a can of worms which was a difficult situation."
8. Mahesh Bhatt, a friend of Nanda's, said he was devastated to learn of her ordeal. "She is a friend. I am quite devastated... We have sat down and she has spoken about her personal issues, financial issues and her relationship problems and never brought this out." His wife Soni Razdan tweeted: "Oh Vinta Nanda, so sorry you had to deal with this all alone so many years ago. Can anything be done? What is unacceptable is the fact that the channel did nothing to protect the girl in question amounting to the most abject callousness on its part. Things really need to change."
9. The Producers Guild of India has said that it is committed to addressing and ending sexual harassment in the film industry and that it will work towards creating safe workplaces in offices and on sets. It said in a statement, "We are instituting a committee within the Guild to lead this effort, and we are determined to stay the course till workplaces in the industry are safe spaces for everyone."
10. Celebs such as Richa Chaddha, Swara Bhasker, Mallika Dua and Mini Mathur described Nanda's account as "terrifying". "For heavens sake. To think someone as avante garde & ballsy as @vintananda went through this
torture and couldn't speak up for 19 years!!! This makes me so sad & angry..#Sanskari my chappal!!" wrote Mathur.
Follow @htshowbiz for more
Personalise your news feed. Follow trending topics