The budget must repair the damage caused by demonetisation
Updated on Feb 01, 2017 01:29 AM IST
To repair the reputational damage of the ill-thought-out note ban exercise, the government may be tempted make a "masterstroke" announcement such as universal basic income or cash transactions tax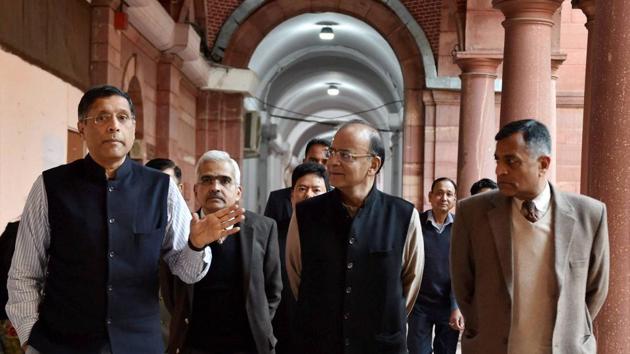 As Finance Minister Arun Jaitley gets ready to present his third full budget, excitement is building up. Every year, there is an expectation that the budget will put the Indian economy on an upward trajectory. From industry titans to the common man and woman, everybody hopes for some "good news". Stock market movements provide instant verdicts. The government's supporters call the budget a "blockbuster" while the opposition calls it "dismal". This drama is likely to be repeated this year. But I believe we must aspire to a higher standard by doing three things. First, we should have a rigorous national debate on announcements that have economy-wide ramifications. Second, we should devote more time to assess implementation of the government's past promises. Third, we should use this and future budget exercises to examine India's long-term economic prospects.
The demonetisation scheme highlights the importance of debating major ideas. Media reports indicate that the government, citing secrecy, implemented demonetisation without serious consultations. Reports also indicate the absence of dissenting views. This is a recipe for undesirable "group think". In any event, demonetisation will cast a shadow on this year's budget. Despite the government's claims about rapid GDP growth, indicators such as credit growth, private investment, export performance and job creation point to a weaker economy than what headline numbers suggest. Demonetisation dealt a further blow to the economy, at least in the short-term. Multiple agencies, including the IMF, have cut growth forecasts. The poor appear to have borne the brunt of demonetisation's fallout. To alleviate this pain, especially with state elections approaching, the government is under pressure to loosen its purse strings. These pulls and pressures will make the fiscal deficit target harder to achieve.
To repair the reputational damage of the ill-thought-out demonetisation, the government may be tempted make a "masterstroke" announcement. Ideas such as universal basic income (UBI), cash transactions tax, and phasing out of the current social protection system (e.g., MGNREGA, public distribution system) are in circulation. Without a rigorous debate, we may fail to ensure safeguards against unintended consequences of these ideas. This can damage India's economic prospects.
Read: Budget session likely to start on stormy note over demonetisation
Budget discussions should also be about lessons of past experiences and a rigorous assessment of the government's implementation record. We must need assess its implementation track record. Let us illustrate this by assessing the government's approach to the banking sector's non-performing assets (NPAs). Despite this sector's critical importance to the broader economy, the government merely paid lip service to NPAs in its first year. Last year, the government allocated ₹25,000 crores for bank recapitalisation. By all accounts, this was insufficient. Could a more decisive approach have prevented NPAs from ballooning up to ₹6.3 lakh crores by September 2016? Is that why we had the slowest credit growth in 60 years as data from last December showed? What lessons have we learnt? Announcements such as Startup India, Mudra Bank, and PSU disinvestments created optimism. Unfortunately, the government's implementation track record has disappointed many. Learning from past missteps and focusing on delivery and results is more important than ever.
Read: Budget 2017: PM Modi's housing-for-all vision likely to get a boost
Finally, budgets should be about more than our immediate circumstances. They should be part of a long-term framework. We should embed thinking about big challenges in the budget process and take a long-term view of India's economic prospects. For example, technology, climate change, and other disruptive forces will likely impact future job prospects for millions of young people. To evaluate progress on such big issues, the budget process could become a much needed benchmarking exercise.
The government can and should use the budget to foster debates on major policies, promote a results orientation, and evolve thinking on long-term challenges. The time for politically expedient rhetorical flourishes may well be over.
Formerly with the World Bank, Salman Anees Soz is a National Media panelist of the Indian National Congress.
The views expressed are personal.