148-year-old Hindu temple re-sanctified in Singapore
Press Trust of India, Singapore |
Press Trust of India
Jun 04, 2018 01:55 PM IST
The ceremony took at the Sri Krishnan Temple which was established in 1870.
India's communications and information minister S Iswaran and priests flown in from the country led some 10,000 devotees at a ceremony to re-sanctify a 148-year old Hindu temple in Singapore.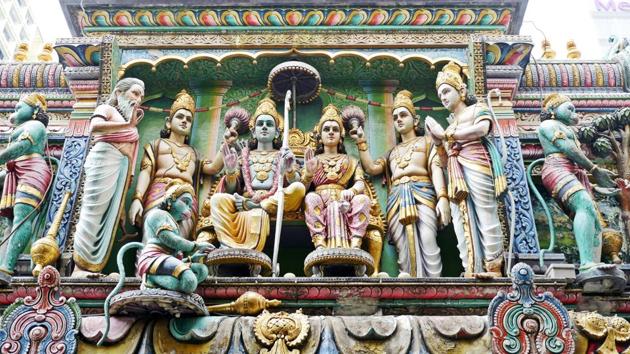 The ceremony that began at 9:15 am on Sunday, marked the start of a 48-day consecration process of the temple that underwent renovation for over four years at a cost of nearly SGD 4 million, The Straits Times reported on Monday.
Maha Samprokshanam, as the ceremony is called, is organised every 12 to 15 years in Singapore's Hindu temples, many of which were built by Indian migrants over 100 years ago.
In the four-year process, the temple committee collaborated with artists and technical advisers to review and endorse ideas for the renovation.
The dome and the statues around it were clad in gold-plated copper, while decorative works on the pillars required two sculptors crafting them on site for over three years.
In the main hall, eight cement shrines were replaced with onyx sanctums. The stone, chosen for its durability, were sourced from India and tested at the National University of Singapore for authenticity and hardiness.
The Sri Krishnan Temple was established in 1870 in Waterloo Street, which was then known as Church Street.
The temple remains at its original site and was gazetted for conservation in June 2014.
Speaking to reporters after the event, Iswaran said the temple showed how Singaporeans shared one another's beliefs and culture, leading to a sense of community and mutual respect.
"One very interesting feature of this temple is the fact that it has appealed to Singaporeans of diverse religious and ethnic backgrounds," he said.