17 mummies discovered in central Egypt: Antiquities ministry
The discovery was the first human necropolis found in central Egypt with so many mummies.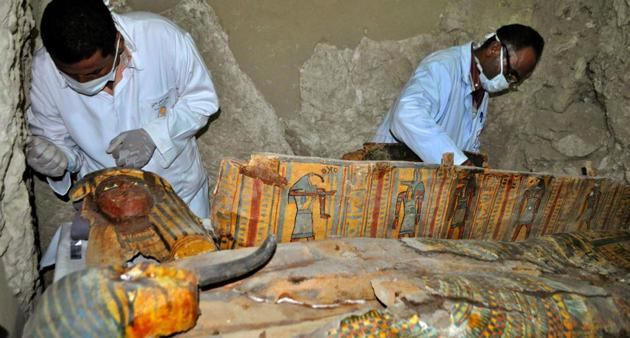 Updated on May 13, 2017 05:23 PM IST
Egyptian archaeologists have discovered 17 mummies in catacombs in Minya province, south of Cairo, the antiquities ministry announced on Saturday.
"We found catacombs containing a number of mummies," said Salah al-Kholi, a Cairo University professor of Egyptology who headed the mission that made the discovery in the Touna el- Gabal district of the province in central Egypt.
Burial shafts were found in the area and excavation work "revealed that these shafts led to a number of corridors inside a cachette of mummies", the ministry said.
It said in a statement that the cachette housed 17 non- royal mummies.
Antiquities minister Khaled el-Enany told a news conference held near the archaeological site in the desert that the discovery was "the first human necropolis found in central Egypt with so many mummies".
The discovery was "important, unprecedented, because it's the first human necropolis" to be found in the area, Mohamed Hamza, director of excavations for Cairo University.
The Touna el-Gabal site dates back to the Greco-Roman period between the third century BC and third century AD.
On April 18, Egyptian archaeologists had discovered six mummies, colourful wooden coffins and more than 1,000 funerary statues in a 3,500-year-old tomb in Luxor city.
Close Story