5 major meetings Musharraf had with Indian leadership | All you need to know
Feb 05, 2023 04:22 PM IST
Pervez Musharraf death: During Musharraf's reign in power, he had at least five major meetings with the Indian leadership on various crucial issues, like Jammu and Kashmir.
Former Pakistan President General (retd.) Pervez Musharraf on Sunday passed away at the age of 79 at the American Hospital in Dubai. He was ailing from amyloidosis and had been undergoing treatment since March 2016.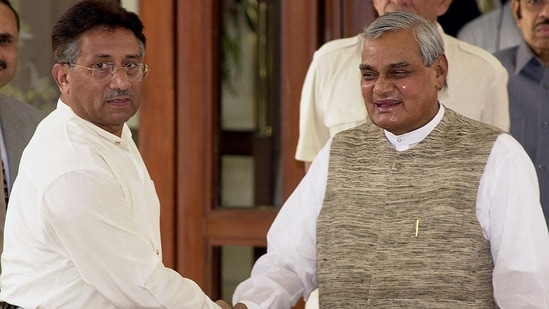 The former military general, who took over the Pakistan throne via military coup, deposing the then prime minister Nawaz Sharif in October 1999 ruled the Islamic nation from 2001-2008 in a dictator style.
Read here: Pervez Musharraf dies: What is amyloidosis? Symptoms, diagnosis, treatment
Musharraf was born in a middle-class family of Urdu-speaking Mohajir parents in Delhi in 1943. The family migrated to Pakistan after the Partition in 1947. The military ruler probably came closest to resolving the Kashmir issue with India but was also the main driver behind the cross-border intrusions that triggered the Kargil conflict. During his reign in power, he had at least five major meetings with the Indian leadership on various crucial issues, like Jammu and Kashmir, reported PTI.
In 2001, Musharraf believed the time had come to "turn over a new leaf" in rebuilding the broken relationship between India and Pakistan. According to a report by BBC, Musharraf in his memoir recounted an incident where he found the "opportunity of a thaw" after the massive earthquake in Gujarat in early 2001. Musharraf called then-PM Atal Behari Vajpayee to offer condolences and he also sent relief, including medicines. That broke the ice and led to an invitation for a meeting to visit India.
However, former Pakistani foreign minister Khurshid Mahmud Kasuri claimed that in a "change of heart", the then Home minister LK Advani broached the idea of inviting Musharraf to discuss the Kashmir conflict. This led to the Agra Summit 2001.
July 2001: Agra Summit
Pervez Musharraf and Atal Bihari Vajpayee met in Agra in July 2001 to discuss and resolve the decades-long Kashmir conflict. This was the first meeting of both the premiers after the Kargil War of 1999. The two-day summit was marked by high drama. Prolonged meetings between the two leaders and their foreign ministers led to two failed attempts at a joint agreement. The talks ended in failure, which left Musharraf exasperated and he left Agra in a huff.
January 2004: SAARC Summit
Atal Bihari Vajpayee and Musharraf hold direct talks at the 12th SAARC summit in Islamabad and the two sides decided to move the peace process forward. India and Pakistan had agreed to a ceasefire along the Line of Control (LOC) and to cool tensions and cease hostilities across the border. This marked the beginning of the Composite Dialogue Process, in which bilateral meetings are held between officials at various levels of government.
Read here: Musharraf, betrayer of Lahore Declaration and architect of Kargil war, dies
September 2004: United Nations
Musharraf met the new Indian Prime minister Manmohan Singh in New York on the sidelines of the UN summit. The Joint Statement by both nations committed to continue peace and to restore normalcy and cooperation.
April 2005: India vs Pak Cricket Series
In 2005, Musharraf visited India to watch a cricket match between the two countries, and the leaders agreed to carry forward the peace process and find a solution "out of the box".
Pakistan cricket team was on India's tour to play three Test matches and six One Day Internationals (ODIs), and Musharraf witnessed the sixth and the last ODI of the series at the Feroz Shah Kotla (now Arun Jaitley) stadium, New Delhi.
September 2006: Non-Aligned Summit
The Summit took place in Cuba's capital Havana when India and Pakistan halted their Composite Dialogue process in July 2006 because of the terror attacks and bombings on Mumbai's local trains killing over 200 people. Until then, there was talk that an agreement on Kashmir was near.
The Summit meeting agreed to form an Anti-Terror Mechanism, a joint committee to share intelligence which met only once, in Islamabad in March 2007, a report by Indian Express said.
Read here: Pervez Musharraf, ex-Pakistani ruler who masterminded Kargil war, dies | 5 points
Musharraf also hailed former Indian cricket team captain MS Dhoni for his batting skills and long hair in 2006. The Indian team toured Pakistan for a series of One Day and Test matches. Musharraf famously advised Dhoni to not have a haircut.
(with inputs from BBC and PTI)