Pervez Musharraf dies: What is amyloidosis? Symptoms, diagnosis, treatment
Feb 05, 2023 05:34 PM IST
Pervez Musharraf dies: Amyloidosis is a rare disease, which affects connective tissues and organs.
Former Pakistan president Pervez Musharraf passed away on Sunday at the age of 79 at the American Hospital in Dubai. He was ailing from amyloidosis and had been undergoing treatment since March 2016.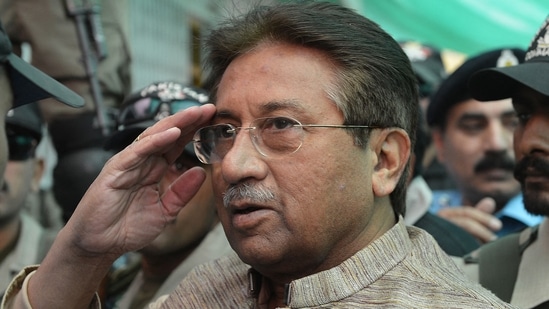 Watch: Pervez Musharraf, architect of Kargil War, dies; Faced charges in Pak I Details
Amyloidosis is a rare disease, which affects connective tissues and organs. It leads to an abnormal deposition of some forms of proteins in tissues leading to organ failure, Dr Prashant Mehta, senior consultant - Medical Oncology/Hematology & Unit Head- BMT, had earlier told HT.
Read here: Pervez Musharraf, former Pakistani president, dies at 79: Reports
Symptoms of amyloidosis
Patients ailing from this disease have symptoms like weight loss, easy fatigability, waxy skin, skin bruising, enlargement of tongue and deltoids, liver enlargement, heart failure, loss of excessive proteins in urine (nephrotic syndrome), carpal tunnel syndrome and disorders of the nerves.
Diagnosis of amyloidosis
Amyloidosis is generally diagnosed in older people. The abnormally deposited proteins have a characteristic appearance under the microscope which can diagnose the condition. Dr Mehta said an abdominal fat pad biopsy is generally used to diagnose the disease but sometimes it can be initially diagnosed on a liver biopsy or even a bone marrow or liver biopsy.
Read here: Pervez Musharraf's Delhi connection: His ancestral house in Daryaganj
Forms of amyloidosis
Amyloidosis has mainly three forms. The most common form is generally the AA type which is caused by inflammatory diseases like tuberculosis, rheumatoid arthritis and inflammatory bowel disorders. The second type, TTR is difficult to treat but newer advances. For severe organ involvement, organ transplantation is done. The third type is the AL or light chain Amyloidosis which is a part of the spectrum of plasma cell dyscrasias and is treated with Immunomodulatory treatment, chemotherapy and steroids, Dr Mehta explained.
Born in a middle-class family of Urdu-speaking Mohajir parents in Delhi, Musharraf migrated to Pakistan after the Partition in 1947. He spent his final years in self-exile in the UAE.