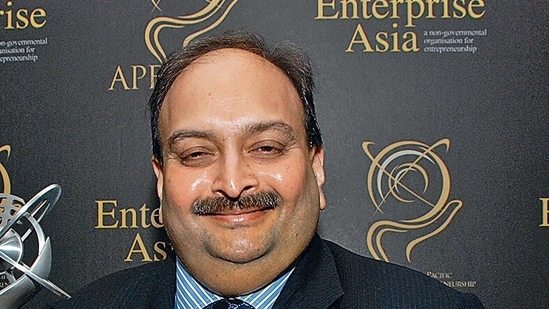 Antiguan opposition asks PM Browne to treat fugitive Mehul Choksi as a citizen
Choksi, who is wanted with connection to the
₹
13,500 crore loan fraud in Punjab National Bank, was arrested by the Dominican police earlier this week.
By
hindustantimes.com
| Reported by Neeraj Chauhan | Written by Shankhyaneel Sarkar | Edited by Avik Roy
, Hindustan Times, New Delhi
PUBLISHED ON MAY 29, 2021 05:19 PM IST
The United Progressive Party (UPP), one of the opposition parties in the Antiguan parliament on Saturday said that the prime minister of Antigua and Barbuda Gaston Browne should treat fugitive diamantaire Mehul Choksi as an Antiguan citizen, according to news agency Antigua News Room.
The UPP said that since Choksi is an Antiguan citizen he is entitled to due process and should be treated according to the rule of law. The UPP's statement comes after the Antiguan PM on Friday said asked the Dominican government to directly send Choksi to India. Choksi's lawyers also earlier on Friday claimed that their client enjoys legal and constitutional protection as a citizen.
"The alleged abduction and beating of Mr. Choksi already paints an unflattering picture of the country. Browne's deliberate attempt to subvert and corrupt the rule of law makes us look even worse," the UPP was quoted as saying by news agency Antigua News Room.
Choksi, who is wanted with connection to the ₹13,500 crore loan fraud in Punjab National Bank, was arrested by the Dominican police earlier this week. The Domincan Police also said that after ascertaining every fact the authorities will repatriate Choksi to Antigua and Barbuda. According to reports by the Antiguan media, Choksi travelled to Dominica by boat. The distance between both islands is barely 100 nautical miles. Choksi claims that he was taken to Dominica by force, an allegation Antiguan police has denied.
Indian agencies seeking Choksi's deportation suffered a setback after the Eastern Caribbean Supreme Court said that it will hear a habeas corpus petition filed by Choksi's lawyers Wayne Marsh and Vijay Aggarwal. Mehul Choksi is currently under quarantine in Dominica. India also does not have an extradition treaty with Dominica.
Choksi disappeared from Antigua on May 25 after he went to the southern side of the island for dinner at a restaurant.
Close