Apologise to Commonwealth for UK's mistakes, Labour urges PM May
Prime Minister Narendra Modi is due to attend the Commonwealth Heads of Government Meeting against the backdrop of Brexit.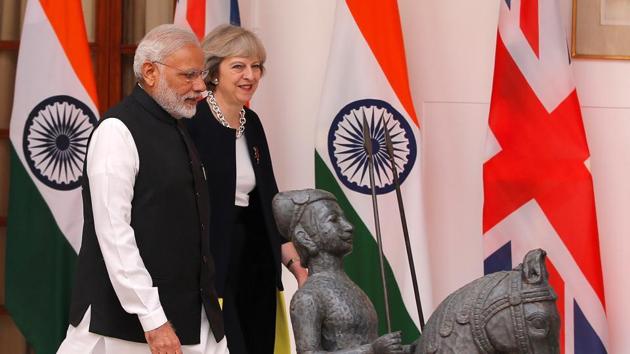 Updated on Apr 13, 2018 07:39 PM IST
As Britain prepares to host the Commonwealth Heads of Government Meeting next week, the opposition Labour Party has demanded that the Theresa May government apologise for the country's historical mistakes in former colonies.
Prime Minister Narendra Modi and heads of state and government of 52 countries are due to attend the meeting against the backdrop of Brexit and the May government seeking to compensate for some of the ensuing economic losses by enhancing trade with the Commonwealth.
There have been demands in the past that Britain apologise for the Jallianwallah Bagh massacre, but it has not been forthcoming, apart from an expression of regret by former prime minister David Cameron during his visit to Amritsar in 2013.
Labour's shadow international development secretary Emily Thornberry believes the Commonwealth now matters more than ever before, and wants Prime Minister May to use CHOGM to "send a wider signal to our Commonwealth cousins that we in the UK truly recognise that the days are gone when our union was described – in colonial terms – as the 'British Commonwealth'."
Writing in the political magazine The House, Thornberry mainly referred to Britain's mistakes in the Chagos Islands and the refusal by former prime minister Margaret Thatcher to impose sanctions on apartheid South Africa in the 1980s. She recalled that Cameron had apologised to Nelson Mandela in 2006 for his party's refusal to impose sanctions.
"I would urge the Prime Minister to approach this summit, and – in that same spirit – I would like her to start it by saying sorry to the other heads of government, not just for the wrong done to the Chagos Islanders, but for the actions of Margaret Thatcher in the 1980s," she wrote.
Labour, she wrote, did not see members of the Commonwealth merely in trading terms, but as full and equal partners. The group will one of the top priorities of a future Labour government, whose foreign policy hinged on multilateralism, internationalism and the centrality of human rights, she added.
Thornberry wrote: "I believe Theresa May and the Conservative government in Britain also owe an apology to the Commonwealth as a whole – and indeed Her Majesty The Queen – for ignoring the efforts of every other member 30 years ago to bring apartheid to an end.
"This great institution (the Commonwealth) does not exist for the benefit of Britain, and even less simply to make up for the post-Brexit hole in our trading balance sheet. It exists for the collective benefit of all its members, and the wider benefit of the world."
Close Story