US, UK, France push for terrorist tag for Jaish chief Masood Azhar that China blocked
This is the fourth attempt to put Masood Azhar, leader of Jaish-e-Mohammed (JeM), on the UN terror blacklist, which would subject him to a global travel ban and assets freeze.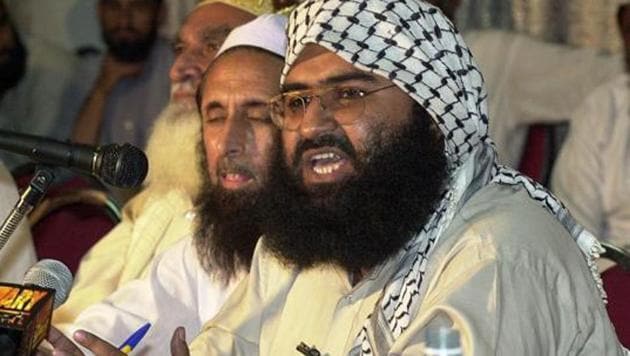 Updated on Feb 28, 2019 11:31 AM IST
Hindustan Times, Washington |
Yashwant Raj
France, UK and the US launched a fresh bid Wednesday to name Masood Azhar, the founder of Pakistan-based Jaish-e-Mohammed that carried out the Pulwama attack and others, as a UN-designated terrorist, as calls mounted for India and Pakistan to de-escalate tensions and exercise restraint.
The United States, separately, called for restraint by both India and Pakistan in view of the Pakistani retaliatory action in response to an Indian airstrike on a Jaish training camp in Balakot, Pakistan. But it also told Pakistan, keeping the focus on terrorism, to abide by its UN "commitments to deny terrorists safe haven and block their access to funds".
France leads the new, and fourth, attempt to put Azhar on a UN blacklist that already includes the outfit he founded after his release by India in 1999 in exchange for passengers of an Indian Airlines flight hijacked by five people including one who would go on to run Jaish's Balakot camp hit by India on Tuesday.
Watch | Six IAF personnel, one civilian killed after Mi-17 chopper crashes in Budgam district
All three previous attempts were blocked by China, which has cited rules, lack of sufficient evidence connecting Azhar to al Qaeda or the Islamic State, under the rules for designation by a sanctions committee set up by a UN Security Council resolution known popularly by the number assigned to it, 1267.
A response was awaited from the French permanent mission to the UN to a question if it feels the fresh attempt, that it is shepherding, has a better chance of succeeding than the previous moves. A response was also awaited from the United States, which was involved in two of the three previous attempts.
Indian officials were cautiously optimistic of the prospect of the new move, in the backdrop, they said, of the Pulwama terrorist attack on February 14 in which at least 40 personnel of the CRPF were killed by a suicide bomber in an attack for which Azhar's Jaish-e-Mohammed has claimed responsibility.
Also read: US supports IAF strike on Jaish camp in Pak, Mike Pompeo tells Ajit Doval: Report
"There is a direct link between the Pulwama attack carried out by Azhar's Jaish-e-Mohammed and the Balakot camp that was run by his brother-in-law Yusuf Azhar, one of the five hijackers of the Indian Airlines flight IC-814, who is on the CBI's listed of wanted criminals," said an Indian counter-terrorism official.
The process of putting together a case for the UN sanctions committee is technical, painstaking and confidential. Contents of the three previous proposals moved for Azhar's designation remain confidential, as do the reasons for their failure, to mounting frustration of experts and Indian diplomats, some of whom have been outspoken critics of the secretive committee and the opacity of its proceedings.
"In an age where informed publics increasingly demand transparency from public institutions, the Sanctions Committees are the most egregious examples known to multilateralism in terms of their opacity and lack of accountability," Indian permanent representative to the UN Syed Akbaruddin said during an open debate at the UN on multilateralism and the role of the world body last November.
He did not name the 15-member 1267 committee, which votes in secret and unanimously to add to its list of sanctioned terrorists. Referring to that process, without naming it once again, Akbaruddin had said, "They do not inform us that due to a negative vote cast by any of their 15 members, they have decided not to sanction an entity or individual proposed by any Member State."
Also read: IAF pilot captured by Pakistan is the son of a retired air marshal
Azhar has been the best-known beneficiary of this opaque process that has been deployed so far, according to available information, only by China in support of its support for Pakistan, which hosts Jaish, Lashkar and countless other terrorist groups, unmindful of its own burgeoning terrorism problem.
JeM, the outfit founded by Azhar, has been on this UN list since 2001, along with Lashkar-e-Toiba, which carried out the 2008 terrorist attack in Mumbai that killed over 160 people. Observers and experts are intrigued by China's opposition to Azhar's designation because it does not really change much for the targeted individual, though UN member nations are required to throw out proscribed individual, not allow them to travel or buy arms.
Lashkar-e-Toiba founder Hafiz, Saeed, they said, was a good example of the limited impact of UN designation. He was blacklisted in 2008 but remains free in Pakistan many years hence despite $10 million US bounty for his arrest and prosecution. He has addressed and participated in large public rallies, some which have been attended also by members of Prime Minister Imran Khan's cabinet.
Close Story