Maldives crisis: China suggests India should not intervene as Nasheed calls for Delhi's help
China said the international community should play a constructive role that respects the Maldives' sovereignty instead of taking measures that could complicate the situation.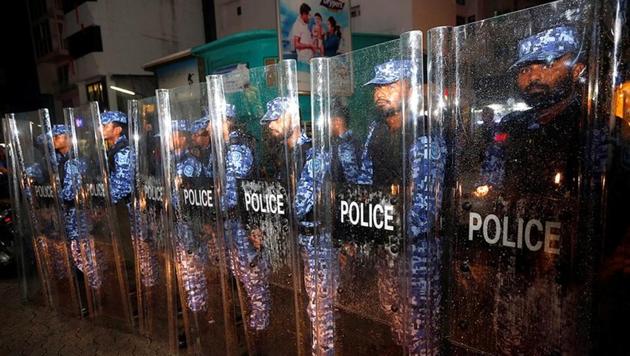 Updated on Feb 07, 2018 11:42 PM IST
Hindustan Times, Beijing |
Sutirtho Patranobis
China on Wednesday opposed any external intervention to resolve the political crisis in the Maldives while r
esponding to former president Mohamed Nasheed's call to India to use its military to end the turmoil in the island nation.
Nasheed, currently in self-exile in Sri Lanka, was undeterred by China's stance and reiterated his demand for Indian intervention on Wednesday, saying Maldivians were looking to India for help as they see the country playing the role of a liberator.
China's foreign ministry spokesperson Geng Shuang didn't mention India at a regular news briefing but left no doubt which country he was referring to when he said Beijing opposed foreign intervention.
"The international community should play a constructive role on the basis of respecting the Maldives' sovereignty instead of taking measures that could complicate the current situation," Geng said when he was asked about Nasheed's remarks.
"The current situation in the Maldives is its internal affairs. China follows the principle of non-interference in the internal affairs of others," Geng said in response to a question on allegations by Maldivian opposition parties that Beijing is backing embattled President Abdulla Yameen as he had approved Chinese projects.
Nasheed had asked India on Tuesday to send an "envoy, backed by its military" to free two Supreme Court judges and former president Maumoon Abdul Gayoom, who were detained on the orders of Yameen. "We request a physical presence," he said.
Brushing aside China's opposition to foreign intervention, Nasheed tweeted on Wednesday: "Saying 'resolve things internally' is akin to asking us to escalate the revolt, which can lead to chaos...
"Maldivians see India's role positively: in '88 they came, resolved the crisis, and left. They were not occupiers but liberators. This is why Maldivians look to India now."
The Maldives, an archipelago off India's southern coast, plunged into political turmoil after the Supreme Court last week cleared Nasheed of terror charges, ordered the release of eight jailed opposition leaders.
Yameen refused to comply with the order and instead imposed emergency on Monday. The government detained two top judges, including the Chief Justice, and former president Gayoom before judges perceived as loyal to Yameen rolled back the order on Tuesday.
Geng said China believes "relevant parties" in the Maldives should find a solution internally.
"We hope relevant parties in the Maldives can properly resolve the issue through consultations and restore national stability and social order as soon as possible," he said.
Geng refuted allegations by Maldivian opposition parties that China is tacitly backing Yameen because he has approved several Chinese projects and signed a controversial Free Trade Agreement during his visit to Beijing in December.
"China maintains friendly cooperation with the Maldives, including the FTA which serves the common interests of the two countries," he said.
An editorial in the nationalistic Global Times tabloid said India should not interfere in the Maldives' internal affairs.
"When Yameen's government signed a free trade agreement with China and joined the Belt and Road Initiative, Indian public opinion reacted harshly. To maximise the country's best interests, Yameen was perhaps considering developing diplomatic ties with all major powers. This infuriated New Delhi," the editorial said.
"Political struggles are supposed to be internal affairs, and New Delhi has no justification to intervene in Malé's affairs. The Maldives must be under huge pressure from India," it added.
"The Maldives' sovereignty should be respected. The political unrest should be left to the Maldivian people to address. We urge all sides in the country to exercise restraint and end the crisis at the minimum cost, striking the correct balance between legal and governmental authority," it further said.
China views Maldives as key to its Maritime Silk Road project in the Indian Ocean as it has acquired Hambantota port in Sri Lanka and set up a naval base at Djibouti in the Horn of Africa.
Close Story
Personalise your news feed. Follow trending topics