China's citizens free to believe, but not to practise
Christian citizens in Zhejiang and Muslim Uyghurs in Xinjiang have been facing a crackdown by the government.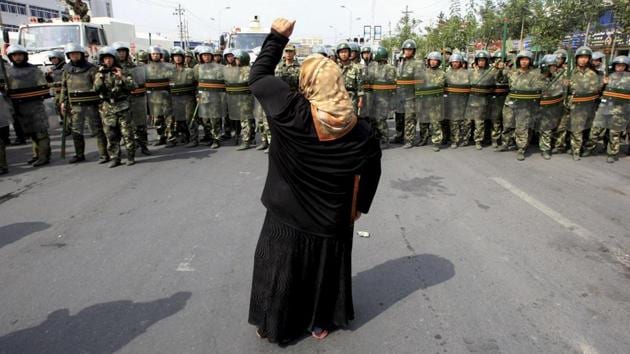 Updated on Dec 25, 2016 07:43 AM IST
Hindustan Times, Beijing | By Sutirtho Patranobis
Addressing a conference on religion in April, President Xi Jinping, not unlike a zealous preacher, thumped the lectern and called for the "sinicisation" of religions in China. He demanded all faiths should be subservient to the might of the Communist Party of China.
"We must resolutely guard against overseas infiltrations via religious means and prevent ideological infringement by extremists," Xi said.
The statement came amid a crackdown on Christianity in Zhejiang and measures to curb the practise of Islam in violence-prone Xinjiang, home to Muslim Uyghurs, where restrictions have been put in place on growing a beard and wearing a veil.
Read | China's largest Muslim website shuttered after Xi Jinping petition
Terry F Kleeman, expert scholar on China's only indigenous religion, Taoism, summed it in The New York Times in August: "The Chinese Constitution guarantees freedom of religious belief but not religious practice."
Communist China does recognise five religions – Buddhism, Catholicism, Islam, Protestantism, Taoism. The State Administration for Religious Affairs regulates activities of state-sanctioned religious organisations, appointing leaders and interpreting doctrine.
"They (the government) are generally very nervous about large, well-networked civil society groups, and even more so, religions that place their allegiance to a person, deity or set of beliefs above loyalty to the Communist Party," Sarah Cook, China Media Bulletin director for Freedom House, New York, told HT.
Because of violence and the seeming threat of separatism, Xinjiang's Muslims have faced more restrictions.
"Muslims make up about 2% of the population in China, but because the country is so populous, its Muslim population is expected to be the 19th largest in the world in 2030. The Muslim population in China is projected to increase from 23.3 million in 2010 to nearly 30 million in 2030," said a Pew survey in 2011.
Read | China asks Muslims to oppose extremism, stick to socialism
The other major religion, Buddhism, is intrinsic to Chinese society along with Taoism.
"By a wide margin, China, with a Buddhist population of 244 million, had the most Buddhists living within its borders in 2010. In fact, about half of the world's Buddhists in 2010 lived in China, though only about one-in-five Chinese people (18%) were Buddhist," the same Pew survey said.
It is more complicated to extract numbers for believers of Taoism.
"A 2007 Chinese Spiritual Life Survey estimated there were 185 million Buddhists in China and 12 million adults who clearly identified with Taoism. Many more people (173 million) reported participating in some Taoist practices, although these may overlap with folk religions," Cook said, quoting data from Katharina Wenzel-Teuber's 2015 Statistical Update on Religions and Churches in the People's Republic of China.
Read | In 'atheist' China, Christians outnumber Communist Party members
Close Story