China sees over 250,000 arrivals on day one of reopening
Jan 10, 2023 01:02 PM IST
China reopening: China received 325 inbound flights and 396 inbound ships on Sunday, Xinhua said.
China saw about a quarter of a million travelers enter the country on its first day of reopening, though the figure remains a fraction of pre-pandemic flows.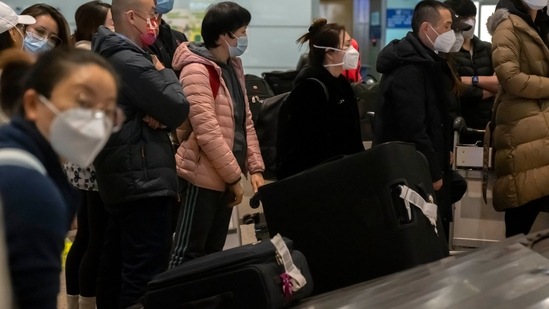 There were 251,045 inbound passenger trips on Sunday, the official Xinhua News agency reported, citing customs data. That compares with a daily average of about 945,300 arrivals in the first quarter of 2019, according to National Immigration Administration data.
Read more: Feel-good factor or truth? Chinese state media says Covid wave past its peak
The end of quarantine for all arrivals on Sunday marked the end of Covid Zero and China's long-awaited reopening with the world after three years of isolation. While it's sparked a flurry of interest among diaspora keen to reunite with loved ones, expensive air fares and still-tight flight capacity mean inbound travel remains difficult for many.
China received 325 inbound flights and 396 inbound ships on Sunday, Xinhua said, citing the customs administration. In the first quarter of 2019, the country accepted about 2,900 flights and 1,400 ships a day on average.
Hong Kong and Macau, which share land borders with the mainland, were top destinations for outbound Chinese residents.
On Sunday, more than 39,000 people visited Macau, including almost 33,000 from mainland China, according to government data. The total visitation number was almost double the daily average for the previous seven days. On the same day, over 5,000 mainland Chinese people visited Hong Kong, more than double the level for the previous Sunday.