'Closed chapter': Pakistan dismisses Donald Trump's 'allegations' on Osama Bin Laden
Donald Trump defended his administration's decision to stop hundreds of millions of dollars in military aid to Pakistan for not doing enough to curb terrorism.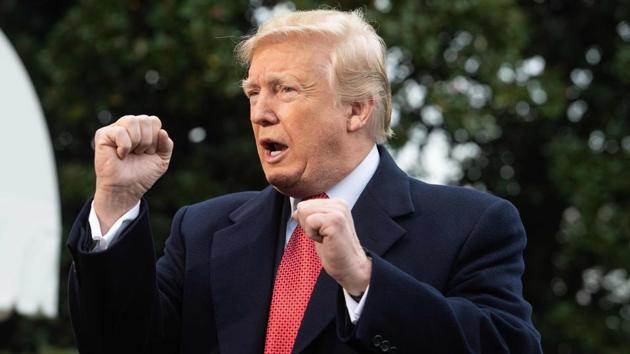 Updated on Nov 20, 2018 05:41 PM IST
Islamabad |
Press Trust of India
Pakistan summoned a senior US diplomat here Tuesday and lodged a strong protest over President Donald Trump's "baseless allegations" on harbouring al-Qaeda chief Osama bin Laden, saying it was a "closed chapter of history" and could seriously undermine bilateral ties.
Trump on Sunday, and in follow up tweets, defended his administration's decision to stop hundreds of millions of dollars in military aid to Pakistan for not doing enough to curb terrorism and criticised Islamabad for offering a hideout to slain al-Qaeda chief bin Laden in the garrison city of Abbottabad.
"We give Pakistan $1.3 billion a year... (bin Laden) lived in Pakistan, we're supporting Pakistan, we're giving them $1.3 billion a year -- which we don't give them anymore, by the way, I ended it because they don't do anything for us, they don't do a damn thing for us," the President told Fox News.
"The Foreign Secretary (Tehmina Janjua) called in the United States charge d'affaires Paul Jones to register a strong protest on the unwarranted and unsubstantiated allegations made against Pakistan," Foreign Office spokesman Muhammad Faisal said.
"Conveying her Government's disappointment on the recent tweets and comments by the US President, the US charge d'affaires was told that such baseless rhetoric about Pakistan was totally unacceptable," he said in a statement.
Faisal said Janjua rejected the insinuations about bin Laden and reminded Jones that it was Pakistan's intelligence cooperation that provided the initial evidence to trace the whereabouts of the slain al-Qaeda leader.
Janjua told Jones that no other country had paid a heavier price than Pakistan in the fight against terrorism, he said.
"The US leadership had acknowledged on multiple occasions that Pakistan's cooperation had helped in decimating the core Al-Qaeda leadership and eradicating the threat of terrorism from the region," the foreign secretary told the US diplomat.
She said the US must not forget that scores of top Al Qaeda leaders were killed or captured because of Pakistan's active cooperation.
"Pakistan's continued support to the efforts of international community in Afghanistan through Ground/ Air and Sea lines of communication was unquestionably critical to the success of this Mission in Afghanistan," Janjua said.
She also said that in the wake of recent US pronouncements to seek political settlement in Afghanistan, Pakistan and America were working in close coordination with other regional stake holders in order to end the prolonged conflict.
"At this critical juncture, baseless allegations about a closed chapter of history could seriously undermine this vital cooperation," she said.
American commandos killed bin Laden in a covert raid in May 2011 in Abbottabad, where he had been living in seclusion in a house near a military academy.
The summoning of Jones followed after Prime Minister Imran Khan, in a series of tweets, on Monday lambasted Trump's comments.
"Record needs to be put straight on Mr Trump's tirade against Pakistan," Khan said in a series of tweets defending his country's record in the US-led war on terror.
He said that Pakistan decided to "participate in the US War on Terror" although no Pakistani was involved in the 9/11 attacks.
"Pakistan suffered 75,000 casualties in this war and over $123 billion was lost", of which "US 'aid' was a miniscule $20 billion", Khan said.
"Instead of making Pakistan a scapegoat for their failures, the US should do a serious assessment of why, despite 140,000 Nato troops, plus 250,000 Afghan troops and reportedly $1 trillion spent on the war in Afghanistan, the Taliban today are stronger than before," he suggested.
Close Story