During her last appearance as New Zealand PM, Jacinda Ardern gave this advice to successor Hipkins
Jan 24, 2023 10:46 AM IST
Addressing the attendees at an event as the Ratana meeting grounds, outgoing New Zealand PM Jainda Ardern said she would leave her job with greater love and affection for her people than what she started with.
New Zealand's Prime Minister Jacinda Ardern, who recently announced her decision to step down from her role, made her final public appearance as the premier of the country on Tuesday. Saying that she had been friends with her Labour Party colleague Chris Hipkins for nearly two decades, Ardern also gave advice to the incoming prime minister and mentioned what she would miss about her job.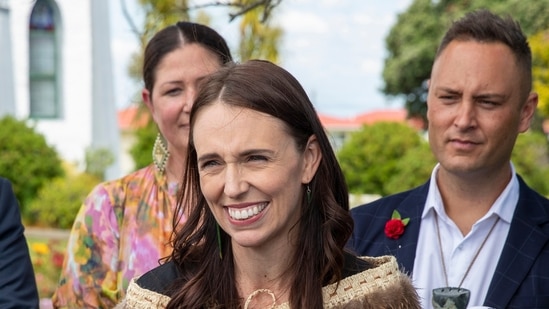 As her final act, she attended the celebrations at the Ratana meeting grounds, the home of an Indigenous Māori religious movement, The Associated Press reported. Speaking with reporters, the incumbent New Zealand PM said that she shared a two-hour drive with Hipkins to the meeting grounds and mentioned the only 'real advice' she could give to him.
"You do you," Ardern advised to Hipkins.
"This is for him now. It's for him to carve out his own space to be his own kind of leader," Ardern was quoted as saying by AP.
She further stated that there is no "advice" she can "really impart" other than sharing "information and experiences".
Ardern said she would miss the people of her country the most as they had been the "joy of the job".
Also Read | Jacinda Ardern's 3 key moments as New Zealand PM
Popular as a global icon, Ardern was greeted at the grounds with embraces and songs. Addressing the attendees, she said she would leave her role with greater love and affection for her people than what she started with. She also addressed the social media attacks on her, questioning her decision and throwing misogynistic shade, saying she would "hate for anyone to view my departure as a negative commentary on New Zealand".
The soon-to-be-prime minister, meanwhile, said that the leadership transition was "bittersweet" while hailing Ardern as a "very good friend".
Ardern said she is ready to be "lots of things" and be a "backbench MP" along with a "sister and a mom".
Ardern, who shocked the world by announcing her resignation, had cited not having anything more left "on the tank" as her reason for the same. She elaborated how the pressure of leading New Zealand through Covid-19 pandemic and the country's worst terrorist attack exhausted her, saying human beings can give so much until "it's time".
Hipkins said he understood he is putting himself forward as a "public property" by taking on the new job. However, he added that seeing the "enormous scrutiny and pressure placed on" Ardern and her family, his response would be to keep his family, including his six-year-old son and four-year-old daughter, "completely out of the spotlight".
Hipkins will be sworn in as New Zealand's 41st Prime Minister by the governor general on Wednesday after Ardern formally steps down.