Explosion in Pakistan's Parachinar kills 22, injures 57
Mar 31, 2017 06:06 PM IST
An explosion targeting Shias in Parachinar, a town in Pakistan's remote northwest, killed at least 12 people and injured scores.
At least 22 people were killed and 57 injured on Friday when a car bomb tore through a market in a mainly Shia area of Pakistan's tribal belt, officials said, in an attack claimed by the Taliban.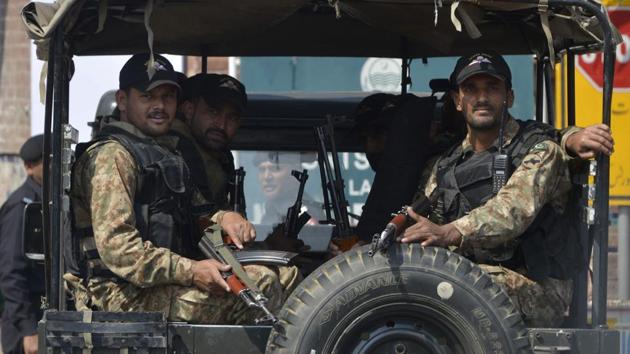 Survivors described hiding inside shops after hearing a "huge bang", as frantic bystanders rushed to help the wounded inside the busy market in Parachinar, capital of Kurram tribal district.
The attack comes after a wave of militant violence killed 130 people across Pakistan in February, unnerving citizens who had been emboldened by improving security and prompting a military crackdown.
"I heard a loud bang and people were screaming," Muhammad Ali, a local resident who was in a market shop when the blast detonated, told AFP.
"We closed doors of the shop as we thought there might be a second blast, but we heard gunshots for a while and people were shouting, so we got out."
They emerged to a scene of desperation, Ali said, describing bystanders carrying the wounded to hospital in any vehicle they could find as security forces arrived.
"We have 22 dead bodies here at the hospital and 57 injured, including women and children," Moeen Begum, a surgeon at the local government-run hospital, told AFP.
Shahid Ali Khan, a local administration official, confirmed the blast had been a car bomb.
Prime minister Nawaz Sharif condemned the blast, saying it was a "duty" to seek the "complete annihilation" of terrorism in Pakistan, and ordering assistance for local authorities.
But angry Shia leaders and local residents quickly accused security forces of failure, with small protests breaking out in Parachinar.
Ali and a second eyewitness described seeing security forces fire on the protesters, injuring some.
"Terrorists crossing dozens of checkposts and carrying out attacks puts a question mark over the progress of security institutions," Allama Raja Nasir Abbas, chief of a Shia political organisation, told AFP in Islamabad.
Criticisms and crackdowns
Jamaat-ul-Ahrar (JuA), a faction of the umbrella Tehreek-e-Taliban Pakistan, or Pakistani Taliban, swiftly claimed the attack in a message sent to AFP.
The group was also part of the wave of attacks which shook the country in February, claiming responsibility for a suicide bomb in Lahore which killed 14 people.
February's assaults also included a suicide blast at a Sufi shrine in Sindh province which killed 90 people and was claimed by Islamic State.
The wave of violence dented optimism after the country appeared to be making strong gains in its decade-and-a-half long war on militancy, with analysts speaking of a militant resurgence.
Pakistan's powerful army launched a crackdown and temporarily closed the border with Afghanistan, which it accused of harbouring the militants who had carried out the attacks.
Politicians also voted to extend legislation creating secret military courts to try civilians on terror charges. The law had expired in January, with the controversial tribunals having hanged 12 people and ordered the executions of 149 more.
Rights activists have slammed the move, calling it part of a "seriously flawed counter terrorism strategy".
Parachinar was the location of the first major militant attack in Pakistan in 2017, a bomb in a different market which killed 24 people in January and was also claimed by the Pakistani Taliban.
Kurram is one of Pakistan's seven semi-autonomous tribal districts which are governed according to local laws and customs.
The district is known for sectarian clashes between Sunnis and Shias, who make up roughly 20% of Pakistan's population of 200 million.