From suspicion to collaboration: How Nepal Maoists tilted to India to oust Oli
In January this year, Nepal's Maoist supremo, Pushpa Kamal Dahal 'Prachanda', called a senior Indian official. He said he had evidence that there was a high-level Indian conspiracy to "eliminate" him.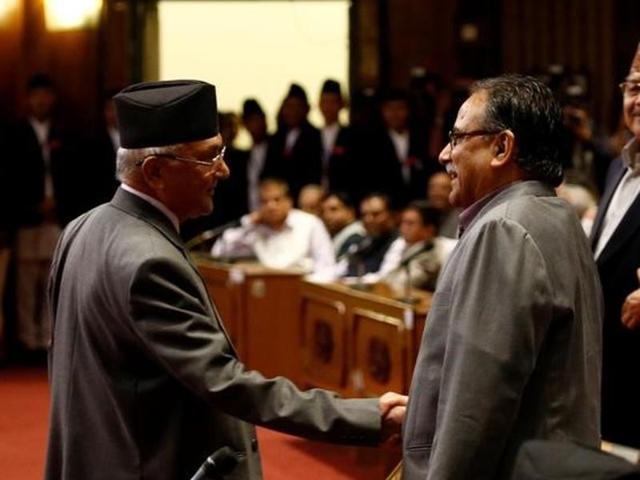 Updated on Jul 25, 2016 07:24 PM IST
In January this year, Nepal's Maoist supremo, Pushpa Kamal Dahal 'Prachanda', called a senior Indian official. He said he had evidence that there was a high-level Indian conspiracy to "eliminate" him. He showed a document with an unrecognisable emblem embossed on it. Prachanda also alleged that Delhi had orchestrated the split of senior leader Baburam Bhattarai from the party.
The Indian diplomat was aghast, and told Prachanda this was 'absurd'; that he was completely wrong; that someone had misled him; and India could never contemplate such a thing. The official told him how was it he did not know but the Maoist chair knew of such a plot if India had hatched it. Prachanda said someone from his party had accessed Indian intelligence documents.
The Maoist leader made similar claims to other interlocutors, and word eventually reached national security advisor (NSA) Ajit Doval. The NSA was taken aback, and is learnt to have laughed it off.
In six months, from deep suspicion, Prachanda came around to trusting India as he decided to withdraw support from the KP Oli government. This was the game-changer that forced Oli to resign. As the Maoist leader prepares to take over as Nepal's next Prime Minister, he is banking deeply on a partnership with India.
How did this turn come about? HT spoke to eight political and diplomatic sources — both Nepali and Indian — who traced the trajectory of the relationship. Most spoke on condition of anonymity.
Read: Nepal PM Oli quits just before no-confidence vote after allies depart
The break with Oli
The domestic context is key. Prachanda and KP Oli were rivals for much of the last two decades. But after the earthquake last year, they came together. The Maoists dropped their allies — the Madhesi forces and other marginalised communities — and accepted a constitution that seemed to institutionalise upper caste dominance.
But in the past six months, Maoists began rethinking.
Barshaman Pun 'Ananta', former finance minister and one of Prachanda's key aides, told HT, "Oli was against federalism and inclusion. He had contempt for Madhesis, Janjatis, Dalits and women. We fought the war to restructure the state on progressive lines. Prachanda was uncomfortable in the alliance and wanted to go back to our base".
There was also a political element. Maoist leaders felt there could be only one Left party in the country — they would, if they stuck to Oli, be reduced to a subsidiary party of his outfit, the Communist Party of Nepal (Unified Marxist Leninist).
A key issue was war crimes. Ananta, a former Maoist army commander, told HT, "Our demand is all cases of the time should be transferred to the Truth and Reconciliation Commission from the existing courts. If there are serious crimes, we are willing to face prosecution but only after investigation within the TRC framework." Prachanda felt that UML was keen on dragging the issue, since it was enmeshed in the 'European NGO network'.
And then there was ambition. The Nepali Congress tempted Prachanda with the offer that he could become Prime Minister.
The India rapprochement
But the key trigger, according to Maoist leaders, was a realisation that they needed better ties with India. In May, Prachanda had told HT, "This peace process rested on a partnership with Nepali Congress and good faith of Government of India. That is our natural alliance and I will return to it." The subtext here was that the party needed Indian support and protection internationally on the issue of past human rights violations. He also felt that Oli's extreme nationalism was counterproductive and could not be sustained with the marginalised alienated.
It is here that Prachanda and Indian officials began engaging deeply. A key intermediary between them was NC MP Amresh Singh, who played an active role in the initial years of the peace process.
"Prachanda told me that India had rewarded him four times — by supporting the peace deal, his appointment as PM in 2008, republicanism, and integration of Maoist combatants. But it also punished him four times — by supporting his ouster and backing the army chief in 2009, encouraging his rival Baburam Bhattarai as PM, downsizing the Maoists during the 2013 elections and supporting Bhattarai's split from the party," Singh told HT.
Singh claimed that now, Prachanda felt, he and India were even and "could begin afresh". In May, he withdrew support only to retract. This made him feel sheepish, and he told an interlocutor, "I owe a debt, and I will pay it with interest".
That payment was made with his withdrawal. In recent discussions, Prachanda asked Indian officials for support for his government, development projects, resolving the Madhesi issue, and a "long term partnership". Officials told him that he would have unstinted Indian support. A congratulatory message has already been drafted and PM Narendra Modi is expected to invite him to India as soon as he is elected next week.
When an interlocutor congratulated Prachanda and told him this was a "golden opportunity", the Maoist leader told him this is also his "last opportunity", regretting his short stint last time. How this one plays out will depend as much on Prachanda's internal governance as the equation with Delhi.
Read | HT analysis: Nepal PM Oli's departure marks an Indian comeback
Close Story