In major shift, US and Germany agree to send battle tanks to Ukraine
Updated on Jan 26, 2023 12:03 AM IST
While President Joe Biden announced that US will send 31 Abrams tanks to Ukraine, German chancellor Olaf Scholz declared that Berlin will send 14 Leopard tanks to Kyiv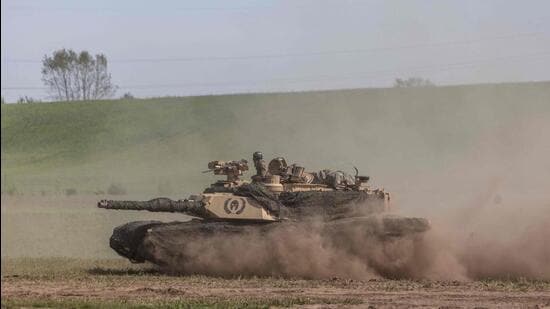 Washington: Marking a critical shift in the nature of western military support to Ukraine, the US and Germany have decided to provide battle tanks to Kyiv to both mount a more effective resistance against an anticipated new round of Russian aggression and change the dynamic on the ground in eastern Ukraine.
While President Joe Biden announced that US would send 31 M1 Abrams tanks to Ukraine, German chancellor Olaf Scholz declared that Berlin would send a company of 14 A6 Leopard 2 tanks to Kyiv. The decision comes after weeks of discussion and divergences between the US and Germany, with Berlin asking Washington DC to first send tanks before Germany did so.
Announcing the US's decision from the White House on Wednesday, Biden said that it had been 11 months since Russia's invasion of Ukraine and through it all, the Ukrainian people had shown their courage; through every single step, Americans had been strong and unwavering in their support; and the US and its Nato allies were fully united.
Biden said that with spring approaching, Ukrainians were working to defend the territory they held and prepare for new counteroffensives. "To liberate their land, they need to be able to counter Russia's evolving tactics and strategy in the battlefield in the very near term. They need to improve their ability to manoeuvre in open terrain. They need an enduring capability to deter and defend against Russian aggression in the long term."
Biden said armoured capability had been critical in the war effort. "Today I am announcing that the United States will be sending 31 Abrams tanks to Ukraine, the equivalent of one Ukrainian battalion. Secretary (Lloyd) Austin has recommended this step because I want to enhance the Ukraine's capacity to defend its territory and achieve its strategic objectives. The Abrams tanks are the most capable tanks in the world."
Biden said that the tanks were also extremely complex to operate and maintain, which is why the US was also giving Ukraine the parts and equipment necessary to sustain the tanks on the battlefield and begin training Ukrainian troops on sustainment, logistics and maintenance. He added that delivering the tanks would take time.
Biden said that the decision had been taken in consultation with allies and specifically hailed Scholz for his leadership and support to Ukraine. "Germany has really stepped up".
The US support, the president clarified, was about helping Ukraine defends its land and was not an offensive threat to Russia and said that if Moscow withdrew its troops, the war would be over today.
He said that Russian President Vladimir Putin expected the US and European support to Ukraine to crumble with time. "But he was wrong. He was wrong."
Earlier on Wednesday, a spokesperson for the German government announced that Scholz had told the Cabinet that Germany had decided to provide Ukraine with the Leopard 2 battle tanks. "This is the result of intensive consultations with Germany's closest European and international partners," Scholz said.
The German government's spokesperson said that Germany would quickly assemble two tank battalions with Leopard 2 tanks. "As as first step, Germany will provide a company of 14 Leopard 2 A6 tanks from Budeshwer stocks. Other European partners will also hand over Leopard 2 tanks. Training of Ukrainians crews is to begin soon in Germany. In addition to training, the package will also include logistics, ammunition and maintenance."
Germany said it will also issue the relevant transfer licence to other partner countries which want to quickly deliver Leopard 2 tanks from their stocks to Ukraine.
The decision is significant for the US has been careful in the nature of military support it has offered to Ukraine, weighing it constantly against the risks of escalation. While Ukraine has sought 300 battle tanks to dent Russian capabilities and fight Moscow's offensive - it has so far been using Soviet era tanks - there were weeks of an intense debate in Washington DC, Brussels, and Berlin about whether to meet the request.
Despite pressure from other Nato allies, Berlin had maintained that it would only send tanks to Ukraine if the US did so. Scholz gave the green signal only when it became clear that the US would send the tanks. Germany's decision marks yet another step in the evolution of its national security outlook over the past year, moving from a policy of not providing any weapons to warring parties before the war commenced to now supporting Ukraine with even battle tanks.
Ukraine's President Volodymyr Zelensky welcomed the decision. He tweeted, "Germany main battle ranks, further broadening of defense support & training missions, green light for partners to supply similar weapons. Just heard about these important & timely decisions in a call with @OlafScholz. Sincerely grateful to the Chancellor.."
The United Kingdom has already announced its decision to send 14 of its Challenger 2 tanks to Ukraine.