India's maritime security policy a key driver in future: UK think tank
Published on Sep 20, 2017 11:08 PM IST
The survey commented on US President Donald Trump's policy on Afghanistan and South Asia and on the narrative and impact of the China-Pakistan Economic Corridor.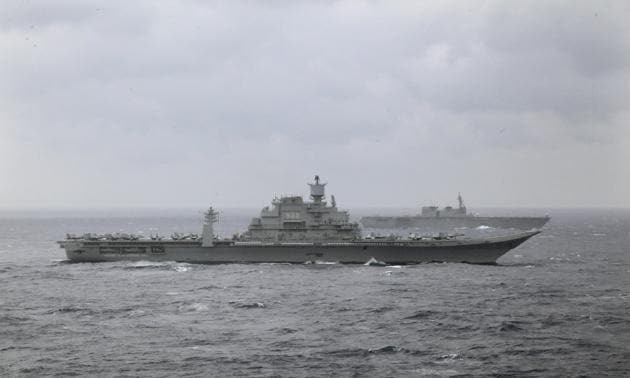 India is rapidly moving towards its goal of becoming a leading power in the Indian Ocean region through the sponsorship of security and economic agreements, according to a key global strategic survey by a leading London-based think tank.
The International Institute for Strategic Studies (IISS) focussed on India's maritime security policy, but also commented on US President Donald Trump's policy on Afghanistan and South Asia and on the narrative and impact of the China-Pakistan Economic Corridor in the survey for 2017 released on Wednesday.
In 2018, IISS sees the geopolitical agenda being dominated by four themes across different regions.
The themes are nuclear proliferation, principally by North Korea but also potentially Iran, terrorism inspired by Islamic State and others reaching the Americas, Europe and Asia, as well as the Middle East and Africa, information warfare, largely led by Russia, generally executing a policy in Europe and elsewhere of "disruptive engagement", and the use of proxies by state actors, principally Iran but also Russia.
On India's proactive and robust maritime policy in the region, Rahul Roy-Chaudhury, senior fellow for South Asia at IISS, told Hindustan Times: "This leverages India's new and emerging capabilities and assets in the Indian Ocean to maximise political and security dividends.
"India now seeks to challenge China's narrative in economic and infrastructure development, deepen maritime security cooperation beyond that of a 'net security provider', push for diplomatic dividends in the south western and the eastern parts of the Indian Ocean, and enhance India's strategic links with the US, Japan and Australia."
The survey noted that intractable problems of cross-border terrorism, as well as instability in Kashmir, continued to damage relations between India and Pakistan in 2017, while accelerating competition between major powers was seen to undermine efforts to stabilise Afghanistan's parlous security environment.
It also said the development of Beijing's Belt and Road Initiative was strengthening ties between Pakistan and China.
At the global level, the survey concluded that rival powers would continue to exploit opportunities opened up in 2017 by the fracturing of western alliances until the damage is repaired.
"The fracture of various partnerships and alliances, mainly from the inside, is opening up more opportunities for large countries, who perceive the status quo to be stacked against them, to exploit and widen these fissures," IISS director general John Chipman warned at the survey's launch.
According to the survey, a significant phenomenon over the last year was the dramatic fracturing of international alliances and strategic relationships that had previously appeared solid. The actions of the US administration had contributed to the trend, but so too had actions of other state parties, it added.
On geopolitical risks for 2018, the survey said most attention will be focussed on North Korea. Israel may also soon be engaged in a conflict with Iranian proxies and possibly Iran itself along its border with Syria and Lebanon, it said.
The deal to contain Iran's nuclear programme, the Joint Comprehensive Plan of Action, "is in jeopardy", the survey said.
Although the so-called Islamic State had suffered major losses, it was inspiring "an increased tempo of terrorist attacks around the world".
"Europe is facing a 'new normal' of small-scale, opportunistic, random attacks that tie up the security agencies and so create space for planning of larger-scale assaults. A 'spectacular' attack in the US or Saudi Arabia is likewise a possibility, while more sustained threats are emerging in Asia," the survey said.
Personalise your news feed. Follow trending topics