Iraqi Christians celebrate in town retaken from Islamic State
Iraqi Christians celebrated the feast of the Immaculate Conception on Friday in the town of Qaraqosh that was previously occupied for three years by jihadists of the Islamic State group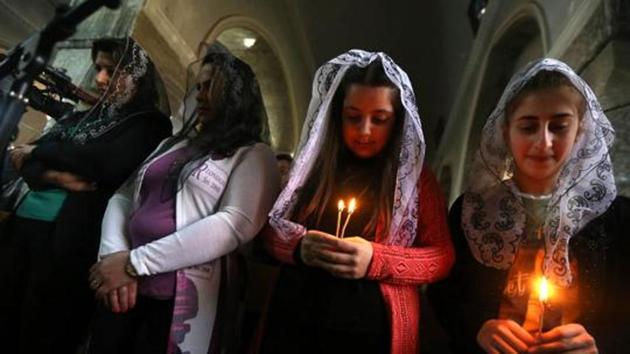 Updated on Dec 09, 2017 10:12 AM IST
Agence France-Presse, Qaraqosh |
Agence France-Presse
Iraqi Christians celebrated the feast of the Immaculate Conception on Friday in the town of Qaraqosh that was previously occupied for three years by jihadists of the Islamic State group.
The bell tower of the church of the Immaculate Conception is still scarred by war, but its interior has been cleaned and signs of damage erased.
Some 300 faithful, mostly women and the elderly, attended Friday's service.
Qaraqosh is some 30 kilometres (18 miles) from Iraq's second city Mosul, and before being taken by IS had some 50,000 residents.
However, only a small number returned after the town was retaken from the jihadists.
Bishop Nuel Tuma, 63, said the annual mass used to attract a far larger congregation.
"But today people are busy rebuilding their homes," he said.
The first mass in the town following its liberation was held on October 30 last year.
"This is our first celebration of Holy Mary after three years when we were displaced," said Hanaa Qasha, a 48-year-old teacher.
"We were able to hold mass in the Church of the Immaculate Conception despite the damage caused by the evil ones.
"But we are people who love life," she added.
Qaraqosh used to have the greatest concentration of Christians in the country.
However, in mid-2014, Christians were pushed out as IS seized vast swathes of territory in northern Iraq.
Close Story