'Look at India, the air is filthy,' says US President Donald Trump at final debate
US president sparked a storm on social media when he used the word "filthy" to describe the quality of air in India - language he has never used for a country he has counted among America's friends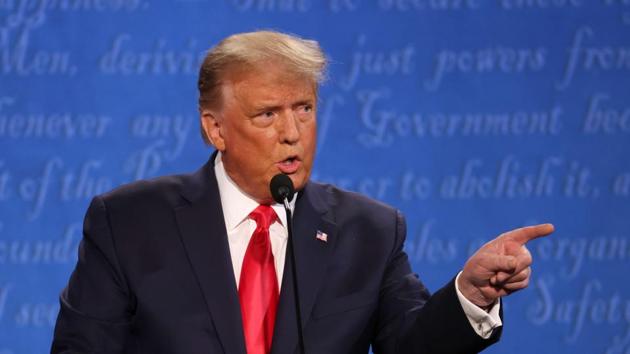 Updated on Oct 23, 2020 04:38 PM IST
Hindustan Times, Washington, DC |
Yashwant Raj
US President Donald Trump on Thursday used the word "filthy" to describe pollution in India during an exchange on climate crisis as he clashed with Democratic rival Joe Biden on Covid-19, immigration, racism, healthcare and foreign policy in their second and final debate in the race for the White House.
Though better behaved and disciplined than they were in their disastrous first debate on September 29, they also launched vicious attacks on each other over corruption, character and integrity in the second showdown on Friday morning, India time, at Belmont University in Nashville, Tennessee.
Watch | US Final Presidential Debate: When Donald Trump called India filthy
Trump came into the debate as an underdog, trailing Biden by wide margins in national polls and in battleground states, desperately in need of changing the trajectory of the race with just 12 days left for polling to close, by which time a large number of Americans would have already cast their votes through early in-person and mail-in voting.
Also Read: Donald Trump calls CBS biased, hateful, rude for '60 Minutes' interview footage
"Look at China, how filthy it is. Look at Russia, look at, India, it's so filthy, the air is filthy," the president said in a segment on climate crisis. "The Paris accord, I took us out because we were going to have to spend trillions of dollars, and we were treated very unfairly when they put us in there, they did us a great disservice. They were going to take away our businesses," he said.
The president has used this argument before — that India and China got a sweeter deal under the Paris Accord and that's chiefly why he left the accord. That's a baseless assertion and India has contested it, but he had not used this language before for India, China, or Russia.
The New York Times' fact-checkers labelled Trump's assertion "misleading": "Air pollution in China and India is indeed a serious issue — India is one of the most polluted countries in the world. But Mr Trump is essentially talking about the countries' contributions to climate change, and on that score, his comments fail to capture the full picture."
Also Read: Donald Trump vs Joe Biden final presidential debate: Who said what
South Asians for Biden, a group backing the Democrat, criticised the president's remarks, tweeting, "Tonight, Trump called India 'filthy'. His rhetoric has proven time and time again that he has disdain for India, as well as for people who draw their heritage from South Asia. He will never respect the vibrancy, beauty, and diversity of our South Asian community."
A congressional aide who spoke on background found it a "bizarre comment from a president who is trying to court India as a key part of his national security strategy in the Indo-Pacific. And it was "oddly timed, especially when his secretary of state and defence are headed to India next week to meet with their Indian counterparts."
The aide was referring to the upcoming 2+2 ministerial dialogue for which secretaries of state and defence, Mike Pompeo and Mark Esper, were scheduled to reach New Delhi on Monday. They will meet their respective counterparts S Jaishankar and Rajnath Singh, and Prime Minister Narendra Modi.
In the past, the US president had mockingly called India "tariff king" during trade talks, and underplayed its Covid-19 testing record to make his administration's response look better in the face of mounting criticism of its handling of the worst public health crisis in more than 100 years.
Also Read: Biden warns Trump has no plan to stop 'dark winter' of Covid-19 deaths
The first 30 minutes or so of the debate was indeed about the Covid-19 pandemic, which has killed more than 223,000 Americans and infected close to 8.5 million, and is now surging again in 75% of the country, raising the spectre of a "dark winter" as Biden put it at the debate.
The former vice-president landed the first punch of the night, attacking the president's response to the epidemic: "Anybody responsible for that many deaths should not remain president of the United States of America." He then challenged the president to start by taking responsibility for it.
Trump, who has refused to take any responsibility for the poor handling of the pandemic or the consequent troubles and disruptions, said he did, but with a line that was soon reverberating around twitter-verse: "Excuse me, I take full responsibility. It's not my fault that it came here, it's China's fault."
Also Read: Poor air quality is a danger to public health. Adopt a holistic approach | HT Editorial
Trump also took every opportunity to draw Biden into a controversy swirling around conservative circles about the foreign business dealings of his son Hunter Biden, and accused Biden of earning millions from Russia and China.
But the former vice-president had come prepared. He denied the allegations, questioned the veracity of the material Trump and his allies had used, and turned it all back on the president, slamming him on his "secret" bank account in China, and refusal to release his tax returns.
Their exchanges on immigration, health care, racism, energy and climate change were vigorous with repeated back-and-forth. Towards the later part of the debate, Trump began hitting Biden on "being all talk" and not doing things he wants to do now when he was vice-president for eight years.
Biden had come prepared with zingers and deployed them well. During a discussion on foreign policy, he brought up Hitler when criticising Trump's eagerness to meet and strike up a good relationship with North Korea's Kim Jong Un. "We had a great relationship with Hitler before he invaded Europe," he said.
And he had a unifying message, which he used repeatedly to contrast Trump's partisan attacks on Democratic cities and states over their Covid-19 cases and other troubles. He promised he will be a president for all of America and not Red America or Blue America.
Topics
Close Story