Nepal urges Everest climbers to bring back empty oxygen tanks for Covid-19 patients
Published on May 10, 2021 01:33 PM IST
Climbers and their Sherpa guides were estimated to have carried at least 3,500 oxygen bottles this season. These bottles often get buried in avalanches or are abandoned on the mountain slopes at the end of the expedition.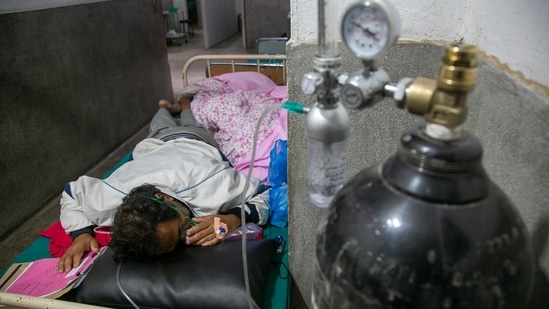 Nepal is so short of oxygen canisters that it has asked climbers on Mount Everest to bring back their empties instead of abandoning them on mountain slopes, an official said on Monday, as it struggles with a second wave of the coronavirus.
The country issued climbing permits to more than 700 climbers for 16 Himalayan peaks - 408 to Mount Everest - for the April-May climbing season in a bid to get the mountaineering industry and tourism back up and running.
The Nepal Mountaineering Association has asked the climbers to help Nepal deal with a surge in Covid-19 cases that has brought the country's fragile healthcare system to breaking point, as it has in neighbouring India where deaths held close to record highs on Monday.
Kul Bahadur Gurung, a senior official with the NMA, said climbers and their Sherpa guides were estimated to have carried at least 3,500 oxygen bottles this season. These bottles often get buried in avalanches or are abandoned on the mountain slopes at the end of the expedition.
"We appeal to climbers and sherpas to bring back their empty bottles wherever possible as they can be refilled and used for the treatment of the coronavirus patients who are in dire needs," Gurung told Reuters.
On Sunday, Nepal reported a daily increase of 8,777 infections, 30 times the number recorded on April 9. The total caseload stands at 394,667 and 3,720 deaths, according to government data.
Many private and community hospitals in Kathmandu have said they are unable to take any more patients due to lack of oxygen. There was a shortage of both the gas and canisters.
"We need about 25,000 oxygen cylinders immediately to save people from dying. This is our urgent need," Samir Kumar Adhikari, a health ministry official said.
"We also need oxygen plants, compressors and ICU beds urgently," Adhikari said. Nepal has asked China to send 20,000 cylinders, some of which will be airlifted to meet urgent needs, another official said.
China has pledged to provide oxygen cylinders, ventilators and other medical supplies, Health and Population Minister Hridayesh Tripathi said.
Nepal has only 1,600 intensive care beds and fewer than 600 ventilators for its population of 30 million with just 0.7 doctors per 100,000 people, according to ActionAid Nepal.
Prakash Thapa, a doctor at the Bheri hospital in Nepalgunj, in southwest Nepal bordering India, said patients were sleeping on the floor and corridors.
"We are somehow managing so far but it will be difficult to take any more patients," he said.
Topics
Close Story
'Top secret' documents seized in raid on Donald Trump's home: Report

FBI agents recovered records marked "top secret" during their search of former president Donald Trump's Florida estate, according to documents made public Friday in a probe that includes possible violations of the US Espionage Act. The warrant and related materials, unsealed by a Florida judge, showed agents took away with them a significant amount of classified files after the raid, which ignited a political firestorm in an already bitterly divided country.

Salman Rushdie had multiple stab wounds, says doctor who helped him

Salman Rushdie suffered multiple stab wounds, including one to the right side of his neck, and was lying in a pool of blood under his body after he was attacked at an event here on Friday, according to a doctor who helped the Mumbai-born controversial author following the brutal assault. Rushdie was attacked and stabbed in the neck on Friday while onstage in Chautauqua in Western New York, New York Police said.

Montenegro mass shooting leaves 12 dead, 6 injured

Twelve people including a gunman were killed in a mass shooting in Montenegro on Friday, according to local media reports, while another six were injured. Police at the scene in the western Montenegrin city of Cetinje declined to comment on the incident. The media reports said a man from Cetinje had opened fire at random in his neighbourhood after a family dispute, killing 11 people and injuring six others.

Terrible day for authors everywhere, say Salman Rushdie's peers after NY attack

Moments after the 75-year-old Booker Prize winner Salman Rushdie was attacked on a stage in New York, several celebrated authors took to Twitter to express their concern. Stephen King, the author of several horror books, including 'It' and 'The Shining', took to Twitter and wrote 'I hope Salman Rushdie is okay.' The US senator of New York Chuck Schumer called the incident a 'shocking and appalling attack on freedom of speech and thought.'

Salman Rushdie is alive and airlifted to safety, says New York governor

British author Salman Rushdie, who was attacked and stabbed in the neck at a literary event on Friday in western New York state, is alive and has been airlifted to safety, said New York's governor Kathy Hochul. Rushdie, whose writings made him the target of Iranian death threats, was taken by helicopter to a local hospital. Social media footage showed people rushing to Rushdie's aid and administrating emergency medical care.
Personalise your news feed. Follow trending topics