New portal capturing life of Indian community in Britain launched on Republic Day
Updated on Jan 27, 2018 07:08 PM IST
Republic Day was celebrated at the India House in London. The portal was launched by Indian high commissioner to the UK, Y K Sinha.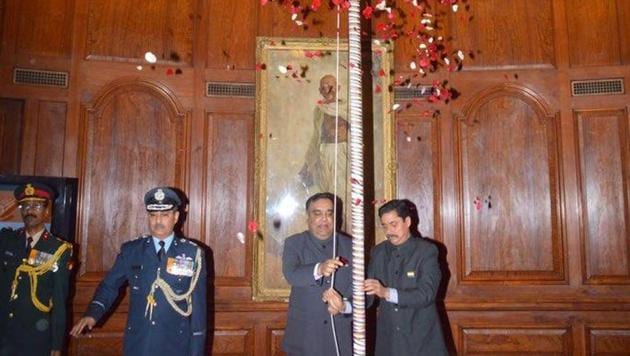 Press Trust of India, London |
Press Trust of India
A new portal of an interactive digital timeline of images celebrating Indians in Britain was launched as part of celebrations to mark India's 69th Republic Day here.
"Whatwedid.co.uk/timeline/IndiaInBritain" is a visual resource which brings together photographs included in the 'India in Britain' exhibition, curated as part of the UK India Year of Culture 2017, with other images from the last 200 years.
The portal was officially launched on Friday by Indian high commissioner to the UK, Y K Sinha alongside UK Foreign Office minister for Asia Mark Field during a special Republic Day reception.
"We have had a historic and eventful year in our bilateral relationship with the UK India Year of Culture and I am certain 2018 will not be barren as far as culture goes," said Sinha.
"India and the UK are firmly looking to a very bright future based on not just our shared culture and values but also shared interests. I am very excited about the work we can do together in the decades ahead," noted Field, the chief guest of the reception.
The new portal, born out of the photographic exhibition which toured the UK last year, marks a collaboration between the Open University, the University of Exeter, the High Commission of India and Nehru Centre in London.
It grew out of decade-long research projects exploring South Asian and Indian-British connections, spanning almost two centuries- from the period of the British Raj through to the post-war migration to present day.
The exhibition was conceived and curated by Professor Susheila Nasta in collaboration with Dr Florian Stadtler and Dr Maya Parmar as an illuminating visual history of India's impact on Britain's cultural, intellectual and political life, national and global politics, human rights and equality, the arts and sport.
Famous personalities are celebrated, alongside images of the ordinary and every day. The images also document moments of adversity and the discrimination faced by those who made their homes in Britain.
From giants of history to the unnamed and unrecognised, the exhibition shines a light on the many individuals who helped shaped British life.