Omicron less likely to cause long Covid: UK Study
Published on Jun 17, 2022 02:41 PM IST
Researchers at King's College London, using data from the ZOE Covid Symptom study app, found the odds of developing long Covid after infection were 20% to 50% lower during the Omicron wave in the UK compared to Delta.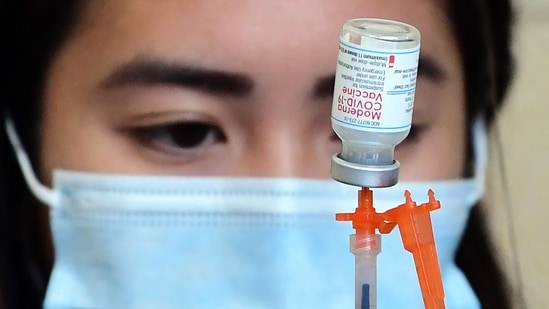 The Omicron variant of coronavirus is less likely to cause long Covid than previous variants, according to the first peer-reviewed study of its kind from the United Kingdom.
Researchers at King's College London, using data from the ZOE Covid Symptom study app, found the odds of developing long Covid after infection were 20% to 50% lower during the Omicron wave in the UK compared to Delta. The figure varied depending on the patient's age and the timing of their last vaccination.
Long Covid, which includes prolonged symptoms ranging from fatigue to 'brain fog', can be debilitating and continue for weeks or months. It is increasingly being recognised as a public health problem, and researchers have been racing to find out if Omicron presents as big a risk of long Covid as previously dominant variants.
The study from King's is believed to be the first academic research to show Omicron does not present as great a risk of long Covid, but that does not mean long Covid patient numbers are dropping, the team said.
While the risk of long Covid was lower during Omicron, more people were infected, so the absolute number now suffering is higher.
"It's good news, but please don't decommission any of your long Covid services," lead researcher Dr Claire Steves told Reuters, appealing to health-service providers.
The UK's Office for National Statistics said in May that 438,000 people in the country have long Covid after Omicron infection, representing 24% of all long Covid patients.
It also said the risk of lingering symptoms after Omicron was lower than with Delta, but only for double-vaccinated people. It found no statistical difference for those who were triple vaccinated.
In the King's research, 4.5% of the 56,003 people studied during Omicron's peak, December 2021-March 2022, reported long COVID. That compared to 10.8% of 41,361 people during the Delta wave, June-November 2021. It did not compare vaccinated and unvaccinated individuals.
While the study – published in The Lancet journal on Thursday – compared Delta and Omicron, Dr Steves said previous work had showed no substantial difference in long COVID risk between other variants.
More work was needed to establish why Omicron may have a lower long Covid risk, the team added.
Topics
Close Story
'Top secret' documents seized in raid on Donald Trump's home: Report

FBI agents recovered records marked "top secret" during their search of former president Donald Trump's Florida estate, according to documents made public Friday in a probe that includes possible violations of the US Espionage Act. The warrant and related materials, unsealed by a Florida judge, showed agents took away with them a significant amount of classified files after the raid, which ignited a political firestorm in an already bitterly divided country.

Salman Rushdie had multiple stab wounds, says doctor who helped him

Salman Rushdie suffered multiple stab wounds, including one to the right side of his neck, and was lying in a pool of blood under his body after he was attacked at an event here on Friday, according to a doctor who helped the Mumbai-born controversial author following the brutal assault. Rushdie was attacked and stabbed in the neck on Friday while onstage in Chautauqua in Western New York, New York Police said.

Montenegro mass shooting leaves 12 dead, 6 injured

Twelve people including a gunman were killed in a mass shooting in Montenegro on Friday, according to local media reports, while another six were injured. Police at the scene in the western Montenegrin city of Cetinje declined to comment on the incident. The media reports said a man from Cetinje had opened fire at random in his neighbourhood after a family dispute, killing 11 people and injuring six others.

Terrible day for authors everywhere, say Salman Rushdie's peers after NY attack

Moments after the 75-year-old Booker Prize winner Salman Rushdie was attacked on a stage in New York, several celebrated authors took to Twitter to express their concern. Stephen King, the author of several horror books, including 'It' and 'The Shining', took to Twitter and wrote 'I hope Salman Rushdie is okay.' The US senator of New York Chuck Schumer called the incident a 'shocking and appalling attack on freedom of speech and thought.'

Salman Rushdie is alive and airlifted to safety, says New York governor

British author Salman Rushdie, who was attacked and stabbed in the neck at a literary event on Friday in western New York state, is alive and has been airlifted to safety, said New York's governor Kathy Hochul. Rushdie, whose writings made him the target of Iranian death threats, was taken by helicopter to a local hospital. Social media footage showed people rushing to Rushdie's aid and administrating emergency medical care.
Personalise your news feed. Follow trending topics